4 Days in Buda-ful Budapest
Ah, yes, Budapest: a city whose name people typically hear mentioned in conversations often, but know virtually know nothing about. That's at least how I was before I ventured to the city to see what all the hubbub was about for myself. Just a short 7.5 bus ride away, I figured this was the best time for me to do it!
Day 1
From Prague, where I was fortunately to be living in, I journeyed to Budapest, Hungary via the popular bus line called RegioJet, a.k.a. Student Agency. The sun bore down on me as I got off my bus at the terminal on June 2nd.
When I arrived, I headed straight to my AirBNB via the rickety, cramped, and rusty old metro to get there. To my surprise, my AirBNB turned out to have an amazing location (at Oktogon metro station). Superb news because location is everything to me! However, upon walking inside my AirBNB, we was a bit…underwhelmed. It was the first AirBNB I'd chosen to stay at that had no reviews simply because it was cheap. I'll (probably) never make that same mistake again as this place was worn-down and a bit dirty. That, and the people living there weren't very friendly.
Also, the water in the shower was cold. Not cool for a little prissy bitch like myself.
After setting my nonsense down, I was desperate for some food (are you surprised?) and stumbled upon a scrumptious little fish restaurant called Halmuhely. Yet another wonderful surprise: I had some of the most flavorful and juicy fish of my life there! And it was such a refreshing meal because I hadn't had really good fish in a long time, since Prague is a landlocked country and all.
After dinner, I obviously needed a good drink (as usual) and headed to Szimpla Kert, a famous ruin bar in Budapest. A ruin bar, if you didn't know, is a bar built into an abandoned store, lot, or building. Ruin bars are incredibly artsy, cool, and "hip." They are decorated in what appears to be recycled materials, you can write on the walls, there's music playing, and there are multiple rooms and corridors to discover inside. Quite a unique experience and totally worth the exploration!
In Szimpla Kert, there were tons of cool rooms with colorful and eye-catching decorations and I honestly loved every second of my time there!
I met up with a couple of couchsurfers there because hey— why not have some friends to enjoy the evening with? I had a couple of beers, then headed back to one of the couchsurfers' apartments for some authentic and delicious Indian treats (how cultural of me, right?). After that, we wandered into some clubs and danced and drank some more!
Then, I finished the night right with some mind-blowingly delicious kebab! Then, promptly stumbled back to my AirBNB.
Day 2
I woke up early, grabbed a light breakfast from some cafe I stumbled upon (I'd leave the name here, but it wasn't good, so no point in that!), and walked to Hősök tere, or Heroes' Square, to admire some beautiful monuments shimmer in the summer sun. After that, I walked around the City Park and checked out Vajdahunyad Castle, which was far more captivating than I thought it would be!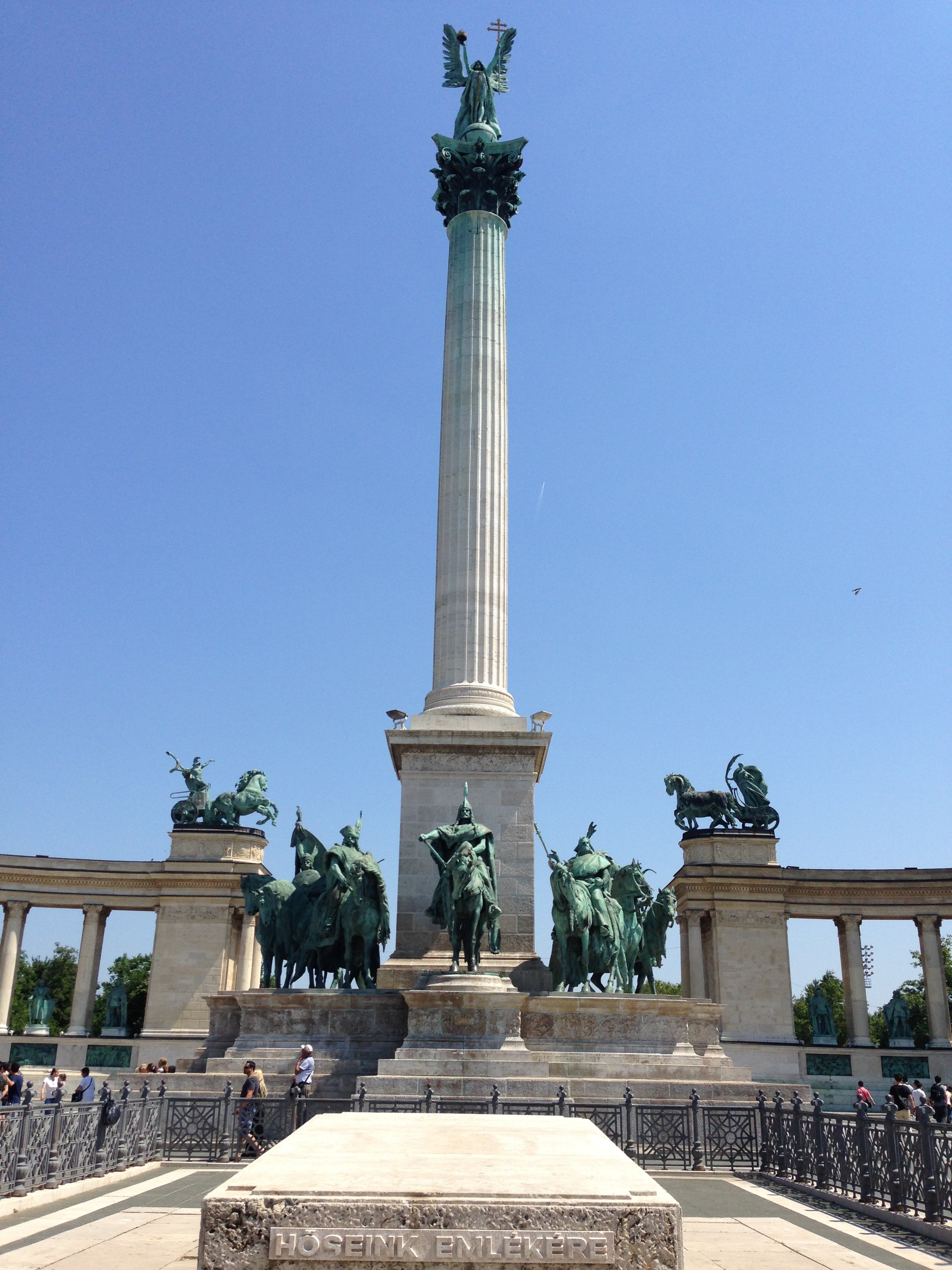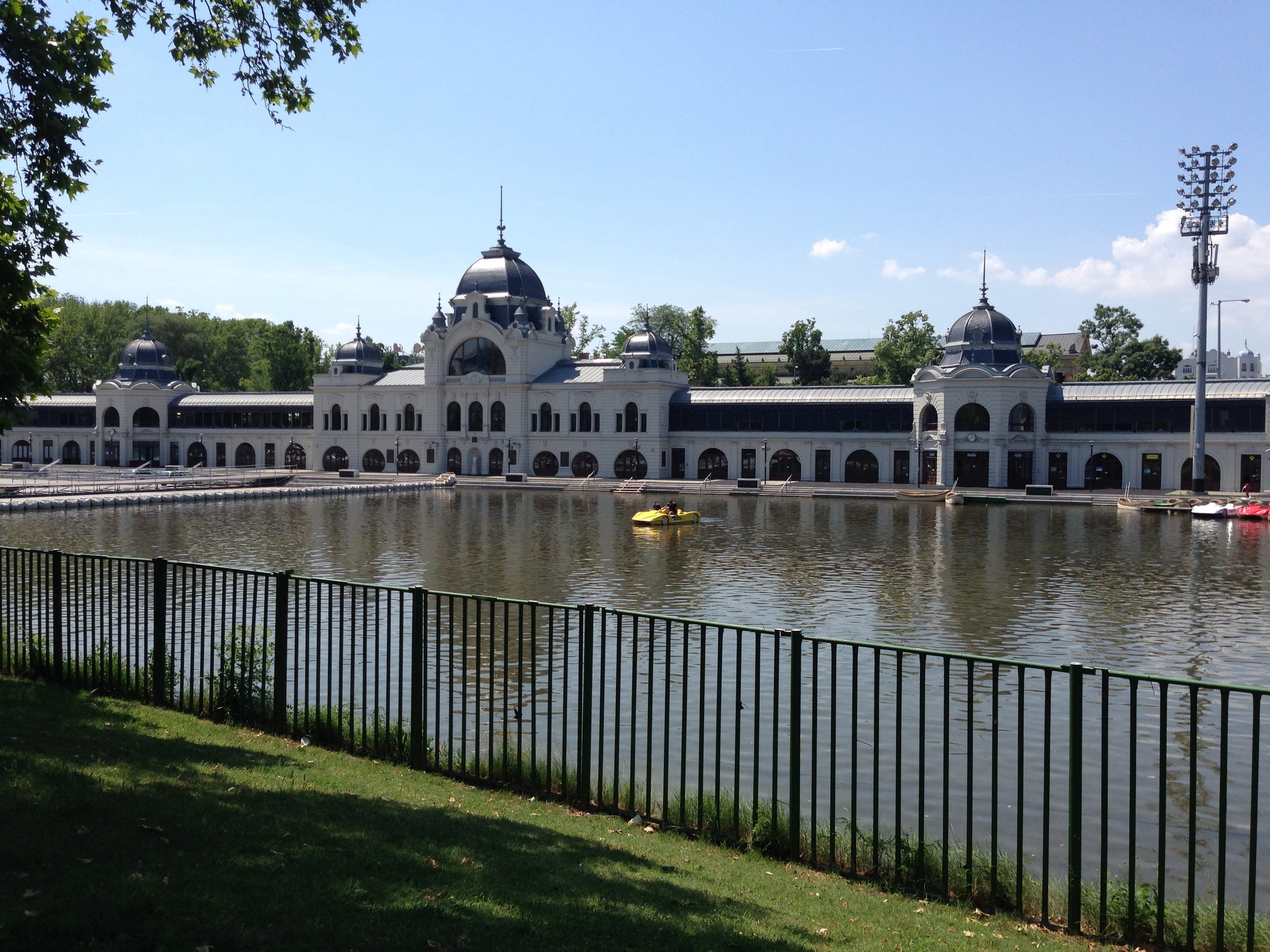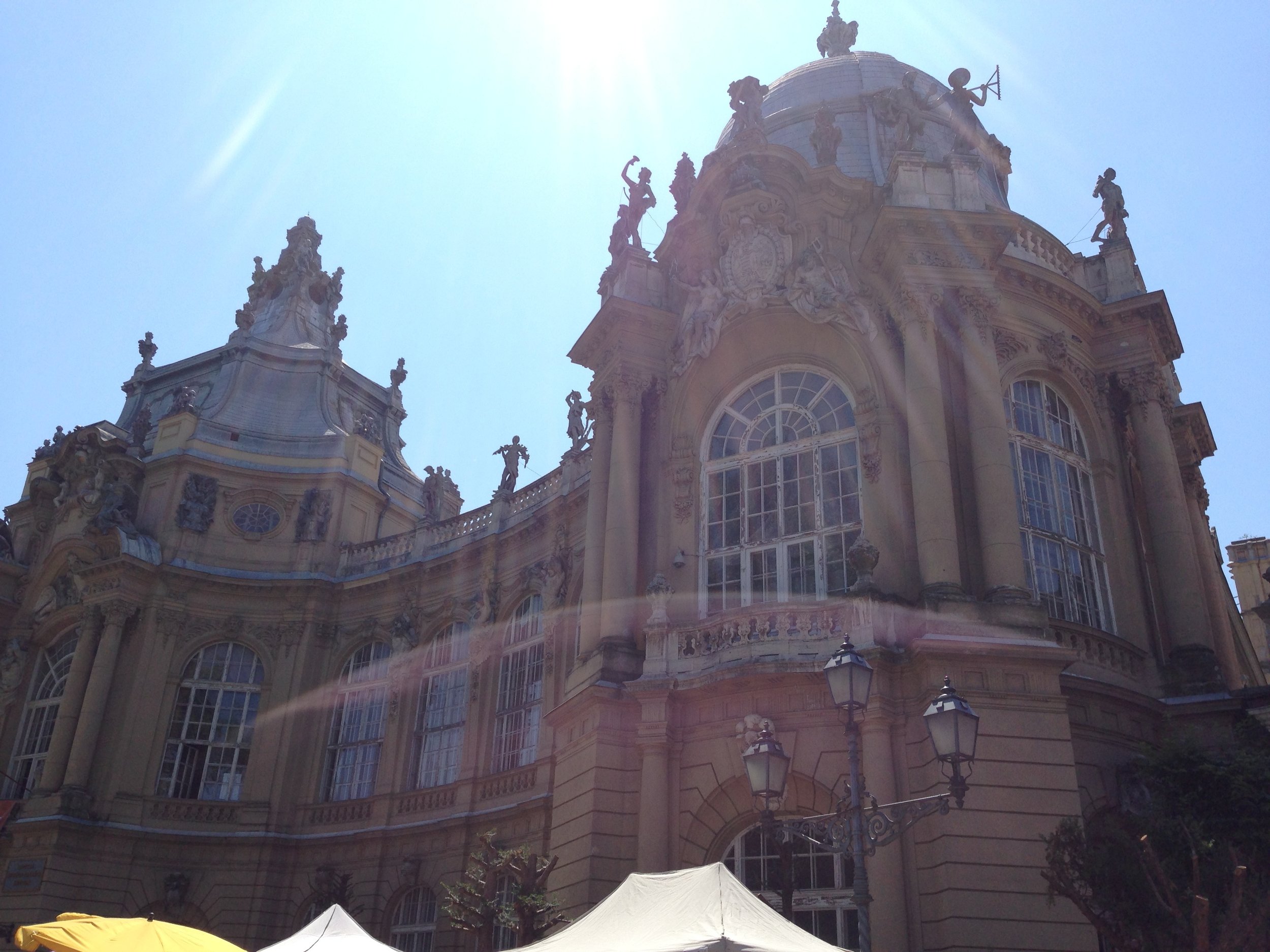 After walking around for a while, I was dripping sweat in my normal unbecoming way, so I felt it was the perfect opportunity to experience the Széchenyi Thermal Baths. This is a Turkish spa built in 1913, which uses natural and healing water from hot springs under the city. There are indoor and outdoor pools where you can soak and wash all your troubles away. Considering it was a nice day outside, I wanted to wade in the outdoor pools. After having to rent a bathing suit because I foolishly forgot to bring my bathing suit, I changed and walked through the indoor area and into the outdoor area.
In the outdoor area, there were three different large pools with clear and mesmerizing water. The pools were surrounded by the spa's mystical yellow building and there were tons of happy people everywhere. I obviously instantly threw my stuff down and hopped into the closest pool.
It was so luxurious....but also, so impossibly warm! Since it's a thermal bath, the water is warm. …Duh. Normally, that would be spectacular andIe would never leave the pool. However, since it was about 90 degrees out and the water was the same temperature as the air, it wasn't relaxing and I could feel myself sweating while in the pool! Not what I wanted.
Eventually, I got out and got into one of the other two pools. With just one step into the other pool, I almost flopped my sweaty self in because I was so excited-- it was a normal, cooler temperature! Just what I wanted-- a damn pool!
It was such a relaxing and overall wonderful experience that I cannot recommend enough! Just remember a bathing suit and sunscreen! I forgot both and that was not a good move!
After my pampered afternoon at the spa, I wandered around outside, trying to find the public transportation. Once again, I was covered in sweat and had to stop at a random cafe for water and WiFi. Once replenished, I found the metro. Hooray!
I rode it to a restaurant our AirBNB host suggested us to try, which was called Elesztohaz. This place had a small courtyard with buildings on either side. In it, there were benches for people to sit and eat. Within the building on the right was a microbrewery with a plethora of beers on tap. In the buiiding on the left, there was a small kitchen, which had tons of fresh, drool-worthy meat for sandwiches. Once again, Budapest shocked me with another love of my life: the best pastrami sandwich ever! Such an outstanding recommendation!
After gorging myself, I wandered around the area, soon discovering it was painfully boring, but had to keep walking anyway to hopefully find a metro or some sort of public transportation. Typical me, getting lost. After walking in what felt like a Moses-life fashion, I did and headed back to my AirBNB to simply relax for a moment.
Around nightfall, I wanted to see the St. Stephen's Basilica, which was only a fifteen-minute walk from my place. Upon discovering it, though, I realized that it wasn't that magical up close, simply because I was at an angle where the building was "too close" for me to really admire it.
I walked a half a block more and discovered an area called Deák Ferenc Tér Square, which had a ferris wheel (cleverly named "Budapest Eye!") and tons of people just hanging out and drinking! Of course, I felt that I should partake, so I headed to a nearby supermarket, bought a bottle of wine and some plastic cups, and sat in the park and drank! The perfect ending to a glorious day.
Day 3
I woke up early once again and explored the entire day. First stop: The Chain Bridge, This bridge is not incredible to look at, but when you learn that it was built in 1849 and is literally the bridge between the "Buda" and "Pest" sides of the city, it's obvious why it's a big deal. At least, it should be! I gotta say, though: it provided a killer view.
On the other side of the bridge (the "Buda" side of the city), I walked up to the Buda Castle. There was the option to take a funicular up to the castle, but there were just way too many people on line, so I simply chose to walk, which ended up being fine because the walk up the hill to the castle wasn't very difficult.
At the top of the hill and on the castle grounds, there was a little marketplace, where vendors were selling all sorts of crap to tourists, from food and drinks, to jewelry and even fur carpets! The castle grounds also provided a gorgeous view of the city.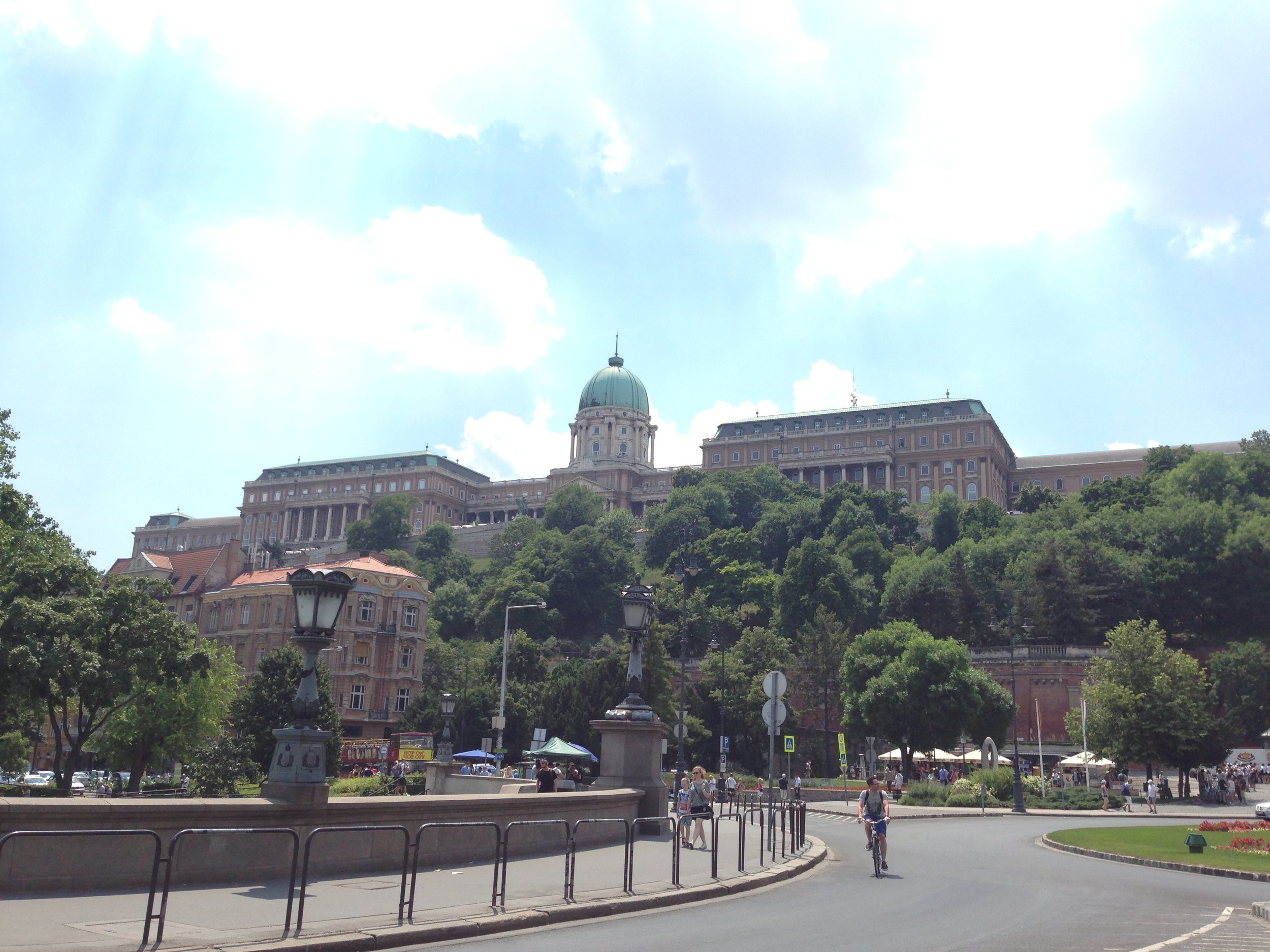 After a relatively short stay, I made my way back down the hill because I desperately wanted to see the Fisherman's Bastion and Matthias Church. However, I had no idea on how to get there from the castle! Typical. So, I asked a guy at an information booth near the castle funicular and he told me I needed to either go on a tour (big, fat "NO") or take the public bus 16 and get off on the third stop. (By the way, I totally didn't have a bus ticket or anything, so we rode the bus technically illegally. Whoops!)
I followed his directions and fortunately arrived at Fisherman's Bastion and Matthias Church about 10 minutes later and... wow. What an impressive place! The church itself has a myriad of colors on its roof and is next to a white stone wall (The Bastion) with mini-steeples on the hillside, overlooking the city. I cannot stress this enough: it was my favorite place to visit in Budapest. It was just mesmerizing!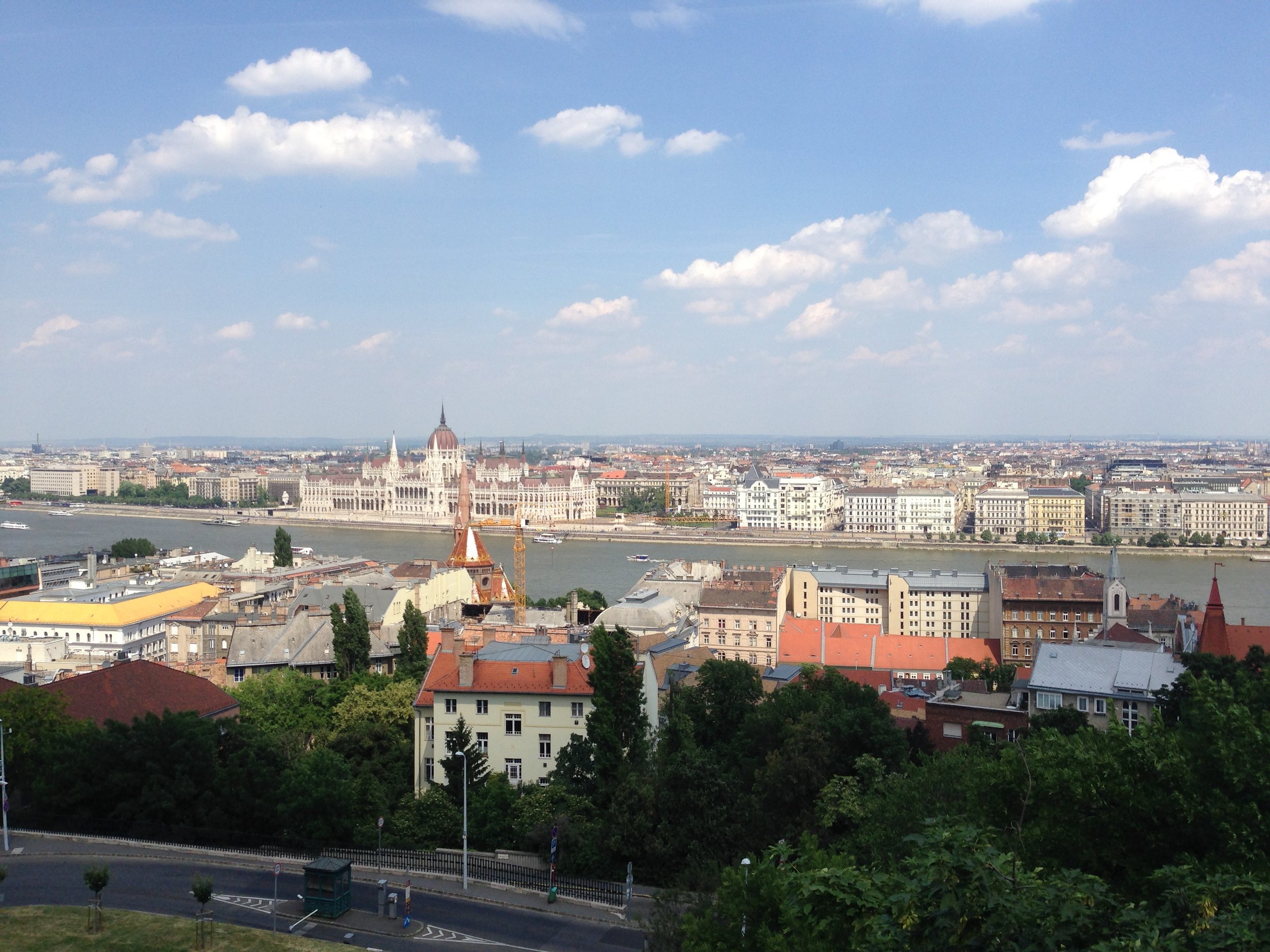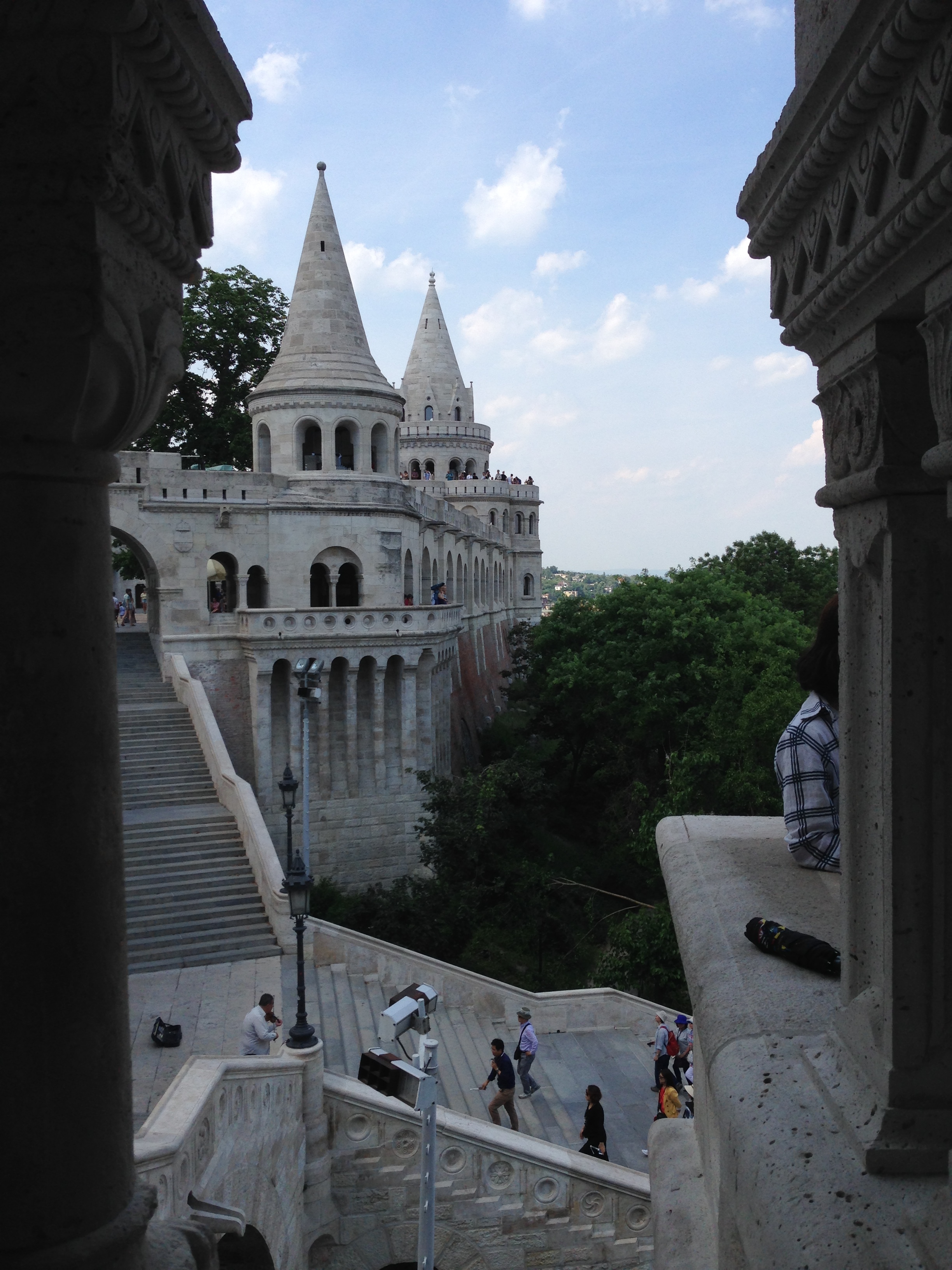 After practically drooling at the Fisherman's Bastion and Matthias Church, I hopped back on the bus 16 and--surprise!--it took me all the way back to Deák Ferenc tér Square! So, as it turns out, I could've just taken the bus from there to the castle and Fisherman's Bastion/Matthias Church instead of walking over the bridge in the sweltering sun. Food for thought!
Speaking of food, I went to the same place for dinner as I had for breakfast! It was a 3-minute walk from my AirBNB and had traditional, affordable, and delectable Hungarian food! The place was called Like Restaurant and Cafe and it was a great, budget-and-tummy-friendly find!
I also did some research and found that there is a tram in Budapest with amazing views. After gulping down my food, I chose to investigate. It was two stops on a different tram from my AirBNB (I'm telling you, it was an amazing location!). I got off, crossed the street, and found Tram #2 at the Jaszai Mari Ter stop.
The first stop on the #2 tram was The Parliament Building. WIhad seen the building from a distance a few times already that day, but I wanted to see it up close and personal, so I got off. What a great decision that was! The building was grand, intricate, and gorgeous. I admired as much of it as I could.
After wandering around that area for a bit, I hopped back on the #2 tram. This tram was an excellent discovery because it provides its riders with spectacular views of the river and surrounding landmarks. It was a beautiful ride! …Until it started raining.
Day 4
My bus back to Prague wasn't until 5:40 pm, so I took it easy for the most part, but still managed to explore just a bit. I discovered this amazing place for some delicious Hungarian and other food. It was called Belvárosi Disznótoros and they had some seriously amazing food for unbeatable prices and portions! I loaded my plate up with some meat and side dishes! Tummy = pleased.
Side note: it's on Király street, as is a plethora of bars, clubs, restaurants, and so on. It's a very happening street and I highly recommend it!
Finally, 5:40 rolled around, and I took RegioJet back to Prague, which was great because they had TVs for every seat and on-board service!
Final Thoughts
I was pleasantly surprised by how amazing Budapest was. I'd heard about it being great, but I was honestly not really expecting it to be as great as it was! I loved it so much, it's now one of my favorite cities in the world. There's so much to do and experience. The public transportation is fantastic, albeit the rickety subways. The people were nice there, too, and most of them spoke English, which definitely helped. The food was good and as was the architecture. Plus, everything was cheap! What's not to love?!
Where would you go in Budapest if you had 4 days?