6 Best Day Trips from Prague
Prague is a romantic city, offering a plethora of views of clay roofs, cobblestone streets, and fairytale-like architecture. It's too easy to fall in love with this unique and too-perfect city. But, the Czech Republic as a whole has far more to offer than just Prague.
While living in Prague for 1.5 years, I had plenty of opportunities to explore the are around the city. Here are my top 6 best day trips from Prague:
Český Krumlov
I had discovered this little town in the Czech Republic through only a small amount of research. It came up multiple times on various websites as being one of the most fairytale-like small towns in Europe.
Granted, traveling 3 hours to one place and then back in one day can sound like a lot. However, Český Krumlov is more of a day trip kind of a place because there really isn't that much to do there except walk around and admire the beauty of it. You don't need more than five hours or so there.
I woke up early on a Friday and took a train at 8:00AM. After 3 hours, I arrived at the train station in Český Krumlov, then walked about 20 minutes downhill into the downtown area. I cannot stress this enough: I was completely blown away by this quaint and magical town!
While there, I visited a few landmarks there and when you go, you need to visit these places, too, because I loved them all:
Barber's (Lazebnický) Bridge
Cloak Bridge (Pláštový Most)
If you're looking for some grub with a lovely view, check out Restaurant Bolero. Be sure to order the local beer, too!
To get to Český Krumlov from Prague:
Take the train from Nadrazi Holesovice train station to Český Krumlov. You could buy your tickets there or on GoEuro. Travel for about 3 hours. Get out and walk pretty much straight for 20 minutes until you reach the downtown area (you'll cross a small bridge and can see the castle to your right).
To get to Prague from Český Krumlov:
Walk back to the train station. You could buy your tickets there easily or again on GoEuro. Take the train from there to Prague station Nadrazi Holesovice.
2. Terezin (Theresienstadt) Concentration Camp
Only a 50-minute bus ride away from Prague is a concentration camp that was used during WWII in Terezin, Czech Republic.
Here are some facts I learned while taking a tour there:
In this camp, 150,000 prisoners (Jews, political prisoners, gypsies, etc.) were held for months or years, then ultimately transported to other concentration camps, like Auschwitz, where they were murdered.

Tens of thousands of children were among those 150,000

Children often put on plays, colored pictures, and did other child-like things within the camp (there's plenty of chilling evidence of this in the Ghetto Museum)

150 people died per day at this camp, mostly from diseases like Dysentery or infections. They were all stored in one room, then transported to the crematorium in town for cremation

Not many people were outright murdered there, but it did happen. The biggest mass murder there was near the end of the camp's liberation where 52 people were shot at once.

After the war, the camp was used as a prison for Nazis. Ironically, the commander of the camp during the war was imprisoned there, then hanged for his crimes against humanity.
It was not a pleasant place for me to be. I couldn't help but feel uneasy throughout my time in the concentration camp, the museum, and even the town. It all felt ominous, like the dark history hung in the air like a thick cloud. For obvious reasons, when going there, don't expect it to be a happy time. However, it is a learning, depressing, and humbling experience, to say the least. Having said that, it really is worth the visit.
To get to Terezin from Prague:
Take the metro to stop Nadrazi Holesovice. Go up the stairs and walk out to the area with the bus stops. Go to the bus stop for Terezin. Pay about 100 CZK to the bus driver. Get out at Terezin.
To get back to Prague from Terezin:
Take the bus from stop 1 in Terezin's main square. Pay about 100 CZK to the driver. Get off at Nadrazi Holesovice. The final bus to Prague leaves at 4:30pm (at least it did the day we went, which was a Saturday).
**Be sure to purchase tickets online ahead of time for the tour of the camp as you will need to. You can't exactly just "show up." With this ticket, you'll be provided a guided tour and entrance to the Ghetto Museum in the town, which is also definitely worth a visit.**
3. Sedlec Ossuary a.k.a. Bone Church
After just an hour train ride, you can find yourself in Kutná Hora, a small town in the Czech Republic. Within this small town resides a small chapel called Sedlec Ossuary, a.k.a. Bone Church. Beneath the church's nave, the skeletons of 40,000 people can be found.
But, they're not just buried or placed delicately somewhere. Instead, the room they are in is ornately decorated with these bones. Eerily and intricately decorated. They were decorated in this way in 1870 by a woodcarver named Frantisek Rint who was given the task to "arrange" these skeletons. Well, it appears he didn't take that task lightly!
To get to Kutná Hora from Prague
You could take a bus from Florenc of Cerny Most bus stations. But, I took the train to Kutná Hora hl.n. from the main train station Hlavní Nádraží in Prague. I recommend the train because it is faster, more comfortable, and roughly the same price. You do have to walk about 20 minutes from the train station to the Bone Church, though. The train is around 110 CZK one way.
To get back to Prague from Kutna Hora
Walk back the way you came to the train station Kutná Hora hl.n.. Buy tickets to Prague, then hop on the train there.
Here is a great website for figuring out the time table for trains and buses to Kutna Hora.
4. Karlštejn Castle
A 40-minute train ride from Prague can take you to this glorious and underrated place called Karlštejn Castle. This castle was founded way back in 1348 and was used as a royal treasury. The castle held the crown jewels of the Roman Empire. That's right: this magical castle was built solely to hold important jewels.
After getting off the train or parking your car, you can walk and find the castle rather easily. The town is lovely to walk through and filled with small coffee shops, restaurants, and even some gaudy tourist shops. However, the walk is worth it to the castle. Once you're at the castle, it's a small place to walk around, but it is magnificent and you can't help but feel like royalty while being there! Oh, and there are even a few lovely views!
To get to Karlštejn Castle from Prague:
Take a direct train to Karlštejn Station from Prague Main Station. Here's where you can check the schedule. Be sure to see when it's open, as they are closed on Mondays and in the winter.
To get back to Prague from Karlštejn Castle:
Take the direct train from Karlštejn back to Prague Main Station.
5. Dresden
Since Germany borders the Czech Republic, why not pop over for a visit and visit the closest big German city? Dresden is known to be an artsy place filled with shops of all kinds. That, and it's only about a 2 hour journey from Prague!
I went there just for some shopping, as clothes shopping in Prague is a bit more expensive. I went to the mall Centrum Gallerie. My friends introduced it to me and the cheap clothing store called Primark.
After shopping, I ate some delectable food, walked around the downtown area, and admired some surprisingly architectural wonders.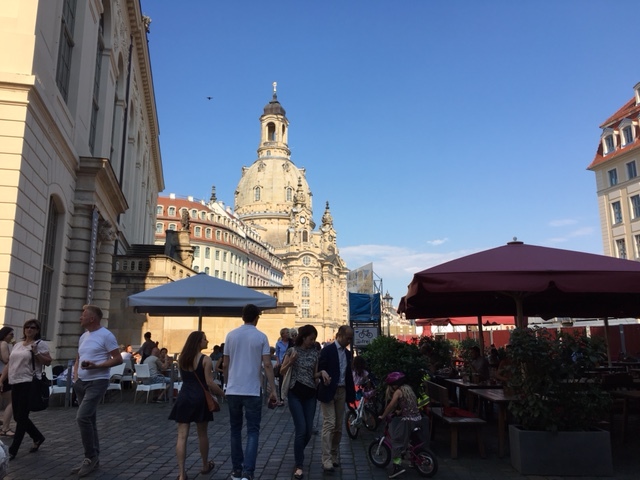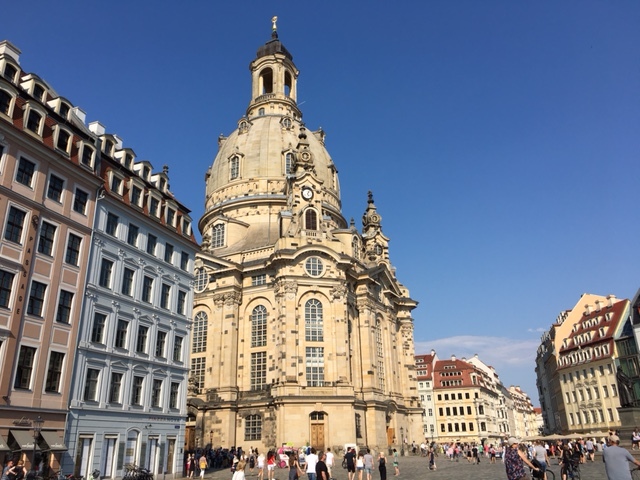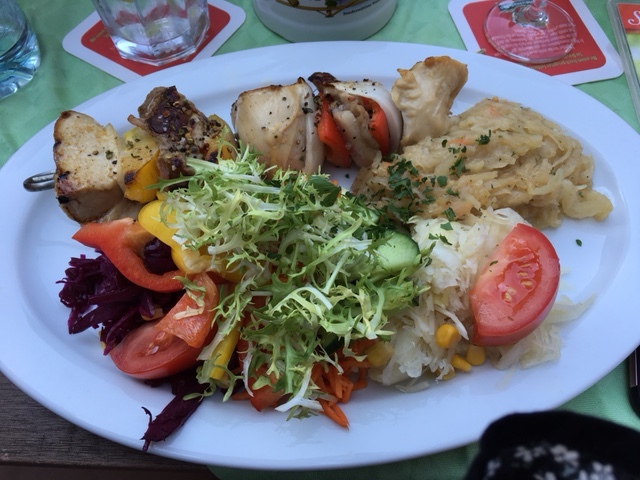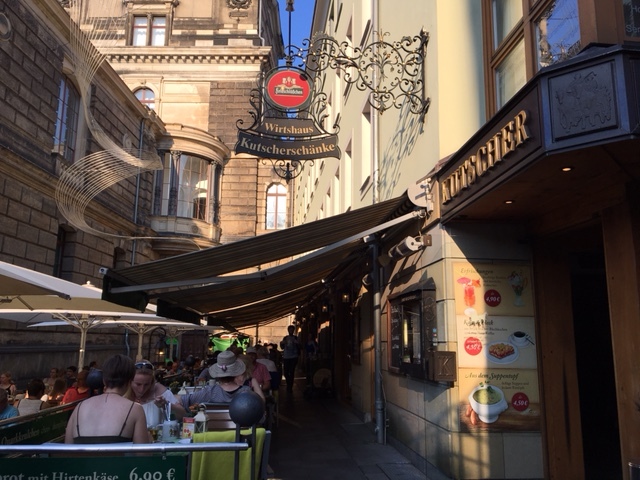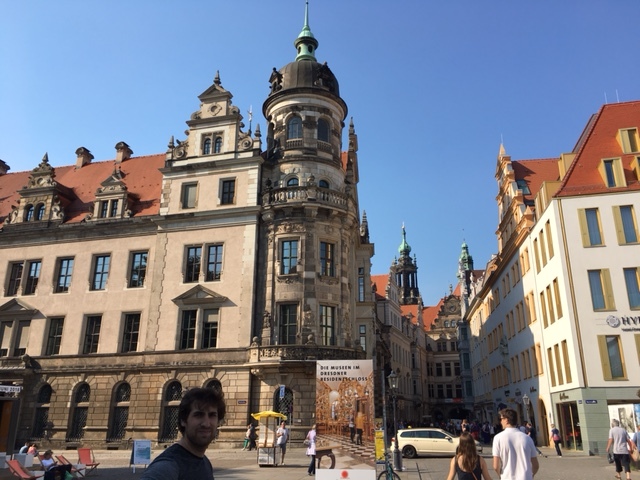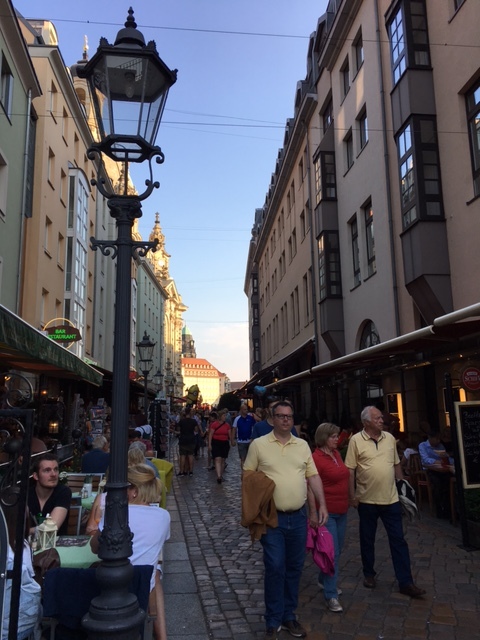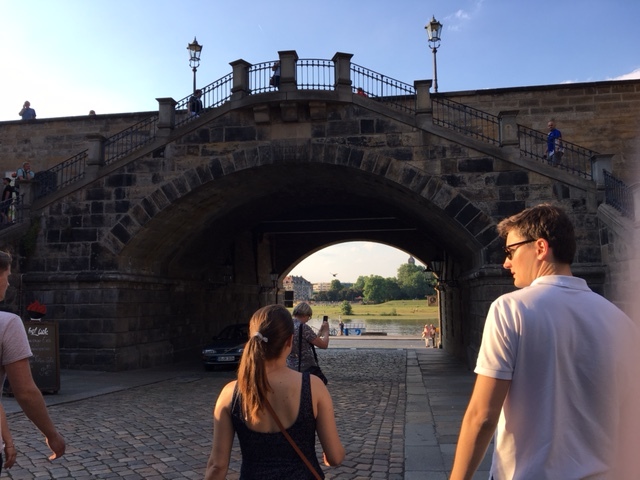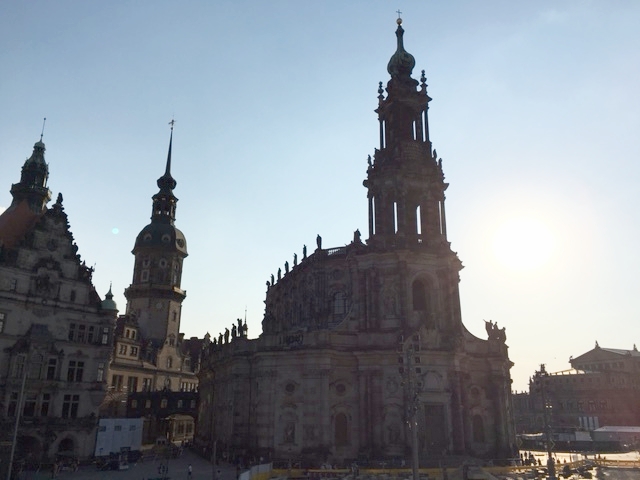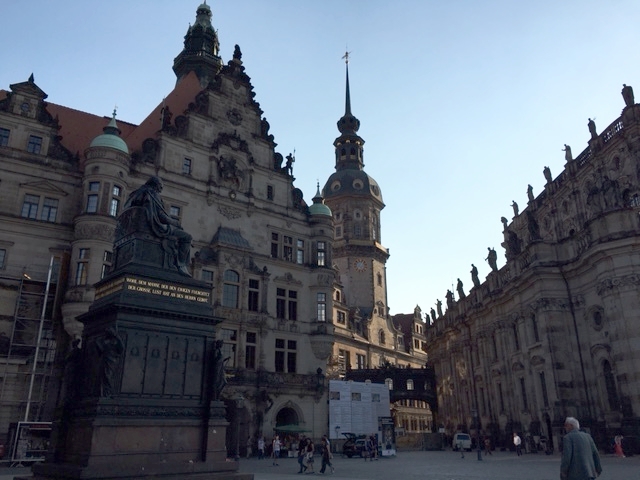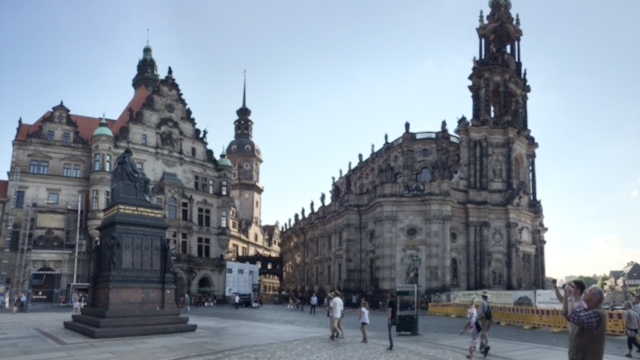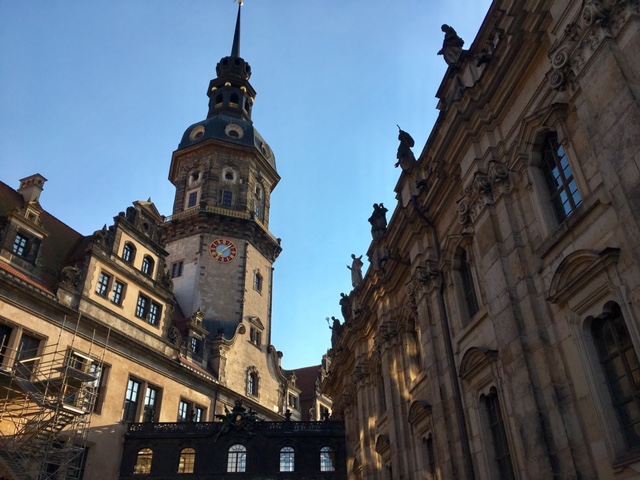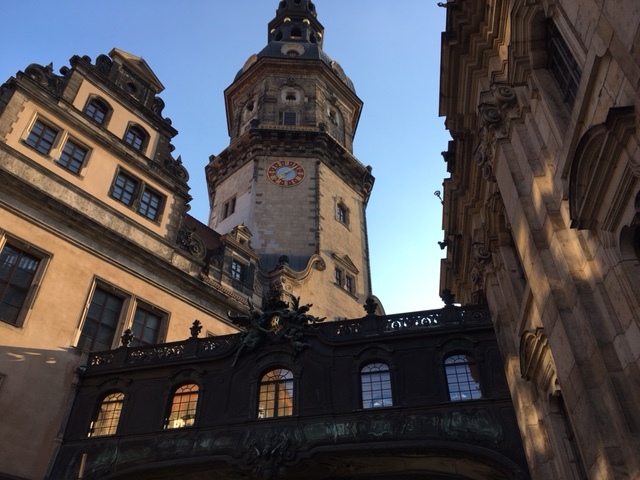 To get to Dresden from Prague:
You can take a car, train, or bus to Dresden. For the train, you could take it from Nadrazi Holesovice. For the bus, you could take it from Florenc. Take whatever transportation you decide to Dresden Station.
To get back to Prague from Dresden:
Once again, take a train or bus. For a schedule, check it out here.
6. Karlovy Vary
Just about an hour and 40 minutes from Prague resides a quaint spa town. Karlovy Vary it was constructed in the 16th century because of its healing hot springs. These hot springs have been healing spa-goers for around 650 years! But, these waters also are known to have curative properties and are used to aid the body in things like improving immunity, aiding the digestive tract, increasing metabolism, preventing civilization illnesses, and more.
Pretty incredible water, huh?
Plus, the city is basically just a big spa. You get to, you know, relax! And who doesn't like to relax?!
Photos from Karlovy Vary are from my good friend, Katie
To get to Karlovy Vary from Prague:
You can take a bus from Florenc or a train from Hlavní Nádraží in Prague. A bus can cost around 2-7 Euros and a train can cost around 13 Euros.
To get back to Prague:
Take the bus from Karlovy Vary Terminal or take the train from Karlovy Vary Nádraží. Check out GoEuro once again for prices, times, etc.
Would you visit any of these places? Have you ever visited any of them? What other places would you add to the list?