Tapas, Terrorism, and Other Things in Barcelona
I went on an 8-day excursion in Barcelona with my ex and his parents in August 2017 and it was certainly a trip to remember— for both good and horrible reasons!
Day 1: Wednesday, August 16th
When we'd arrived at our AirBNB, we realized it wasn't actually in Barcelona, but it was in L'Hospitalet de Llobregat, a municipality right next to Barcelona. But, it was only a few minutes drive from the center of Barcelona and the price for the week was much cheaper than if we'd stayed in Barcelona itself..
Our AirBNB was comfortably sized for the four of us and was in a clean and quiet area, which was perfect! When we got into our AirBNB, we dropped our things and pigged out on meat, cheese, and bread that Matt's parents picked up before we arrived. It was unbelievable! Everything was so fresh, flavorful, and downright delicious! It was a great reward for our flight and cab ride debacle!
Then, we were all so exhausted, we all took a five or six hour nap. Whoops! We woke up at around 9pm, then walked around the corner and ate at a restaurant/cafe called Café de la Plaça. We sat outside and ate a ton of tapas and it was amazing! We ate calamari, shrimp, bread, mushrooms, and other good stuff! If you stay in L'Hospitalet de Llobregat, I highly recommend you try this place as it's delicious, local, and affordable!
As it turned out, I served a purpose during this vacation: I was our translator! I'd been learning Spanish for a little while at this point and finally put it to use multiple times throughout our vacation. It wasn't perfect, but it was definitely enough to have simple conversations with people and get us by. It does help to speak even a little Spanish in Spain, even in Barcelona!
Fun fact: people mainly speak Catalan in Barcelona, a different language from Spanish. However, most people also speak Spanish as well!
After gorging ourselves on good food and wine, we went back to the AirBNB and hung out. But, since we took a long nap and were jetlagged, we couldn't get to sleep at a decent time. We all ended up staying up until around 3AM just drinking and, believe it or not, eating more!
However, that wasn't such a bad thing, as we discovered. In Barcelona specifically, but (we believe) throughout all of Spain, the lifestyle is very relaxed. People tend to eat dinner very late in the evening-- around 10PM! And they have a long siesta during the day for lunch and relaxation. So, throughout the entire vacation, we fell right into that amazing lifestyle. We would wake up at 12pm, eat some lunch, waltz around, have dinner very late, then go to sleep. It was wonderful and we very much enjoyed living that way for the week!
Day 2: Thursday, August 17th, 2017
We woke up late, ate some breakfast, then took a cab into the city. We went to La Rambla, which is a touristy/busy street in Barcelona with many street vendors. Normally, we take public transportation everywhere we travel, but since the taxis were affordable and my ex's parents covered the cost, we stuck to taking taxis the whole time. Oh, and Uber doesn't exist in Barcelona, so that was not an option, either.
When we arrived at La Rambla, we walked on the street for all of maybe ten minutes and reached a mutual agreement that it was a letdown. It was just very touristy, there were tourist traps all over the street, and it was just overall boring.
We headed into La Boqueria, which was a crowded and drool-worthy market right off of La Rambla. We ate plenty of cured meats, cheese, and other goodies! Definitely worth a visit!
After that, we meandered around some side streets nearby La Rambla and La Boqueria. We even found ourselves on a questionable street, which seemed to have a few prostitutes and other questionable figures-- all in the middle of the day!
We stumbled upon a restaurant that was about two blocks from La Rambla. We sat and ate some tapas and even ordered a couple of late-afternoon drinks. After we finished eating, we noticed a commotion on the street. The restaurant was situated on a street corner and had large windows on both sides of it. There were people running fearfully past the restaurant. I mean, a lot of people, not just a few. This, of course, got our attention because people don't run fearfully for no good reason. People in the restaurant, including us, started standing up, not really entirely sure if we ourselves would need to start running, too. One of the waiters told us to stay calm and that nothing was the matter-- even though, clearly, something was the matter!
Suddenly, the front door crashed open--either a person came running inside or a person ran outside, we're still not sure-- and everyone in the restaurant started sprinting to the back of the restaurant. Matt's parents ran into the kitchen, which was in the back, and my ex and I ran down the staircase into the basement. We hid in a small, windowless room downstairs in the dark with two other random restaurant goers. We stood there in silence for a few minutes until the waiter (the one I mentioned earlier) came in and told us to come back upstairs.
We went back upstairs and found Matt's parents along with everyone else there, but we still saw people running past the restaurant outside. We even saw armed police officers on the street! So, we knew for sure that this was something pretty big. Of course, we checked our phones to see if there was any news, but there was nothing. After a few minutes sitting back at our table, we saw a few police officers walk around the corner, holding machine guns in ready-to-fire positions! One of them burst in the side door of the restaurant and yelled something in Spanish. The waitress, who was very calm up until this point, suddenly shouted to us all, "Get down!" In total fear and chaos, everyone ran down to the basement and hid in the windowless room we'd hid in earlier. All 15 of us were completely silent, constantly checking our phones for any news, but to no avail. A few people wept quietly.
About ten minutes or so went by and the waiter from earlier finally opened the door and told us it was safe to come out. He had pulled down these iron garage-like doors around the windows and doors upstairs, so no one was getting in or out at that point. All we could do then was just walk in circles and constantly check our phones for any updates on the outside world.
A bit later, we were informed by our trusty protector/waiter that we needed to stay in lockdown there until 7:30pm, which was still a few hours from then. Understandably, everyone was panicking, checking their phones constantly, and some were crying and shaking. Eventually, the four of us found it might be best to just relax at our table and drink some beer. There was nothing else we could really do anyway!
Eventually, we all learned that there had actually been a terrorist attack in Barcelona. On La Rambla, which was only two blocks away from where we were and where we had been only a couple of hours earlier, there was a van that ran over and killed 13 and injured 130 civilians.
While waiting, we got even more terrifying news-- people were being held hostage in a restaurant on La Rambla! But, luckily, that turned out to be a lie. But, eerily enough, that information reached us all via reputable sources. Thankfully, that was false (fake news!).
During this incident, I also learned that social media can be a very powerful and terrifying thing. I had taken a video of the police officers walking on our street and posted it to social media. I simply felt that people not in Barcelona would want to see a video of what was going on-- which many people do during attacks. But, quickly after doing so, I had received tons of negative comments and messages, even threats. I wasn't aware that my posting of the video could be misconstrued as rude, crude, or thoughtless!
And, apparently... my video was shared by the terrorist group themselves on Twitter. That obviously was not my goal, either!!! I didn't even show anything gruesome or anything like that. It was just the policemen walking. Great.
So, on top of dealing with a terrorist attack, I was also battling cyberbullied while also inadvertently supporting terrorists. All in all, just a peachy day.
Anyway, we hung out in the restaurant for about three hours. When we left, there was just an eerie stillness on the streets. There were people everywhere, but no one was talking or really moving much. Shock and horror hung like a heavy cloud in the air. There were helicopters flying overhead, police cars and ambulances speeding on the roads. We desperately wanted to find a way back to the AirBNB, but since the public transportation had been shut down, it made it hard to find a taxi.
We had to walk a few blocks away from the chaos to eventually find a taxi. But, the taxi driver was not a very kind guy. When we arrived at our place, I said to him in Spanish how sorry we were about what happened. But, he just mumbled something about how only tourists were harmed, so it was fine. That was not something we wanted to hear, especially since we were tourists and something so awful happened to not only tourists, but, you know, human beings.
Bottom line is that we were lucky. Incredibly lucky. However, there were many other people who were not so fortunate. Our thoughts continue to go out to those affected by that horrible tragedy.
A few hours after returning to our AirBNB, we grew hungry and needed to grab dinner. Apparently, surviving a terrorist attack takes a lot of energy! Since we obviously didn't want to go very far, we went back to Café de la Plaça. We ate some delectable fish and other goodies. I asked about paella and the waiter told me that we had to order it a day in advance because it needed to be prepared and cooked all day.
Since that made it sound impossibly scrumptious, we made a date with some paella for the following evening!
Day 3: Friday, August 18th
We were honestly still shaken up from the pandemonium that ensued the previous day, even more so because the driver of the van hadn't been caught yet. He could've been anywhere, which terrified us even more.
We had other viable reasons for being so nervous. We also found out via the news that there was an explosion at a house in Alcanar, Spain on Wednesday, which police had previously dismissed as a gas explosion. The same people that led the attack in Barcelona planned to make the attack significantly more deadly and even have a few more on top of that one. They planned to drive vans with explosions on La Rambla, into La Sagrada Familia, and La Barceloneta. But, because of the explosion in the house that ruined their bombs, chose to make do and only drive an unarmed van on La Rambla.
Considering all of these newfound facts, we were definitely still terrified and unsure of what to do with ourselves. We all knew logically that we shouldn't let something like this ruin our travels, but we couldn't help ourselves. Matt's mom was especially nervous because she had never traveled anywhere outside of the US except to the Caribbean. How ironic that there was a terrorist attack the one time she does?! So, naturally, she was freaked out the most out of anyone.
We chose to not travel far from the apartment. We stayed near to our place, went grocery shopping, and my ex's dad cooked us up a homemade feast. It was outrageous! His dad is already an amazing cook, but the ingredients--clams, mussels, crabs, herbs, and more-- were just so fresh, clean, and delectable that it somehow made his food even better!
After wasting the day away relaxing, we went to Café de la Plaça for our paella! While waiting for it to be brought out, we sat outside drinking wine, not entirely aware of what we were about to get ourselves into.
Suddenly, our waiter appeared with the biggest pan I've ever seen, filled to the brim with steaming rice, seafood, and deliciousness. I honestly had never seen a more beautiful food item in my life. Our waiter carefully served it to each of us and left us. After closing our jaws that had flung open in awe, we picked up our forks and dove in.
Guys. It was one of the greatest things any of us had ever eaten in our lives. Yes. Ever. It was rich in flavor and color, had such fresh seafood in it, the rice was perfectly cooked, the texture was soft yet crunchy in places... My lord. I could go on and on about how outstanding that paella was.
I still dream about that paella.
And they might be a bit…dirty. And can you blame me?! Paella Marisco, you are my one true love.
Day 4: Saturday, August 19th
Like every other day, we woke up around 12 and ate some "breakfast." We all felt that we needed to get out of the apartment and explore. Since they did catch the guy who was at large, we chose to move on and finally start to fully enjoy our vacation. But, naturally, we were still just a bit shaken up. So, we collectively chose to head to the one place everyone loves to go to when they need to relax: the beach!
We took yet another cab to the beach, which is referred to as La Barceloneta. We foolishly assumed that the beach wouldn't have been very nice, since it was in a city. However, we couldn't have been more wrong! The beach was immaculate! There was a lovely boardwalk, it was so clean, the sand was golden and glistening, there were cute restaurants all along the boardwalk, and even a towering skyscraper!
We walked a little bit, then, as I feel like we did most of the time in Barcelona, realized we were thirsty and hungry and got some drinks with tapas at a restaurant on the beach! Even though it was a prime location, the prices weren't too crazy, which was interesting to see and made the experience even more enjoyable.
After that, we caught another cab and headed to La Sagrada Familia. La Sagrada Familia is a large church, which was designed and started by Antoni Gaudí, a legendary Catalonian architect. He began building the church in 1882 and to this day, it is still unfinished. Although it's unfinished, it is still an awe-inspiring work of art and attracts millions of tourists from all over the world each year.
We chose to not go inside because it's an extensive wait, so instead, we wandered around outside and took pictures of it from there. It was hard to get it in one shot because it was so large, though! The church was far larger and more impressive than I imagined it would be.
After that, we headed back to our AirBNB and relaxed. Again. What a tough day!
Day 5: Sunday, August 19th
In order to go to Park Güell, we needed to purchase our tickets a day in advance, which we did last minute the day before this day! And fortunately, it only cost about $8 per person. Sweet deal! When we arrived, we only waited on line for a few minutes when they let us in at the time we were signed up for. Once we made it inside, we were all amazed. There were colorful mosaics in every nook and cranny in the park-- on buildings, ceilings, pillars, roofs, and even the ground. The fact alone that it was constructed in 1900 was amazing, too, since it was so well preserved and somehow looked as if it was made only the day before!
We walked around the park, mesmerized by the incredible artistic abilities of-- you guessed it!-- Antoni Gaudí again! He was truly a gifted guy.
While walking around the park, we realized that there are two sections of it: the part you pay for and the free part. The part you pay for, of course, has all of the buildings and artsy stuff that you want to see when you visit Park Güell. But, the free part has a trail that leads you around and to the top of Carmel Hill, on which Park Güell is situated. The top of Carmel Hill provides a spectacular view of the city, which we took full advantage of. Beware, though, if you want to go: there were lots of stairs to get up there!
It was starting to get dark, so we headed down to the bottom of the hill, out of Park Güell, and-- wouldn't you know it-- into another cab! We went into Plaça del Espanya, which had the Magic Fountain of Montjuïc. We arrived there at night, but saw a ton of people walking away from the fountain, quickly realizing we must've missed something (we didn't even know that there was a spectacular light show every night at the fountain until after we left Barcelona and that was what we missed by just a few minutes!). We walked a couple of blocks, trying to walk to a restaurant I had heard about from a friend. Realizing it was much too far and we were lazy, we hailed down another cab and arrived at the restaurant Ciudad Condal.
We arrived around 10pm or so, but still had to wait a little while for a table. They were packed! We wandered around the corner and found quite the interesting pub called Obama. And it was African-themed. But, was an English pub. It was downright confusing! We each had a drink, then eventually went back to the restaurant just in time to be seated!
We ordered more drinks (naturally) and tons of tapas-- and they were all out of this world. Everything was decently priced, too, which is always a pleasure! The atmosphere, the service, the food, and the drinks were all outstanding. Ciudad Condal is definitely a restaurant not to be missed in Barcelona!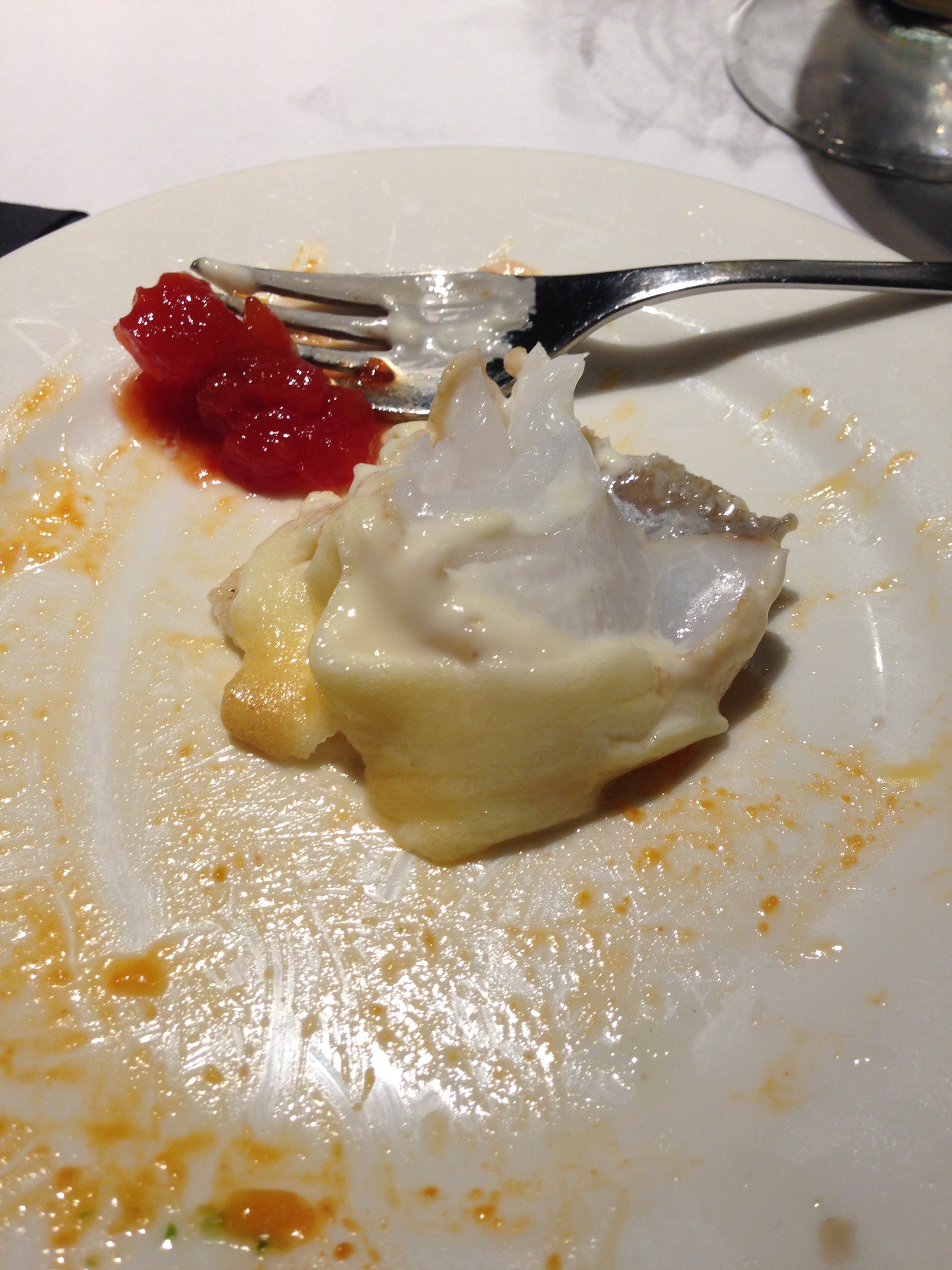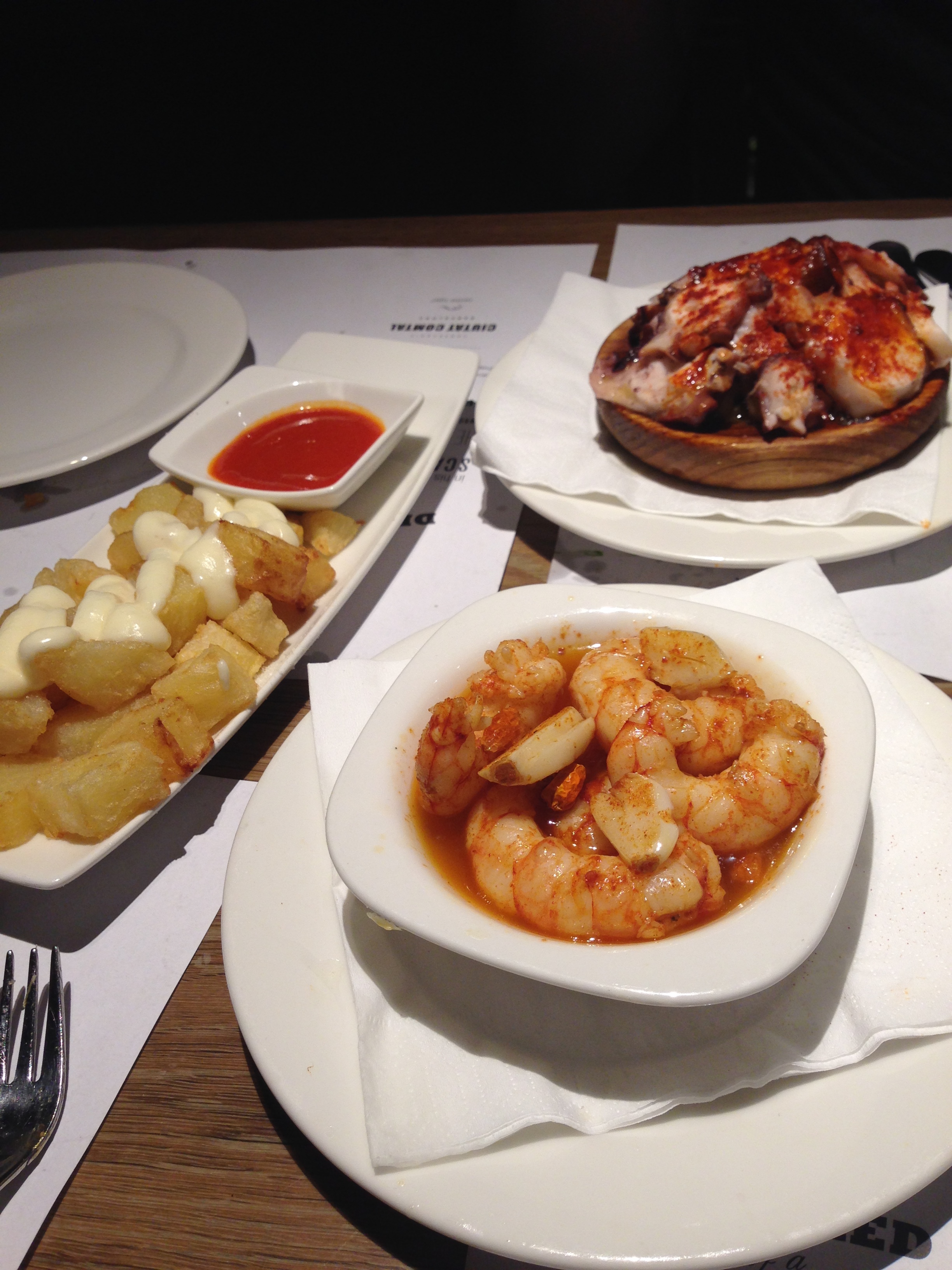 After dinner, we tried to hail a cab...but there were no cabs at all! We walked around trying to find one, went to different streets, and even asked a convenience store worker to call us one. Nothing! We waited almost an hour until one finally showed up and took us back to our AirBNB. Phew!
Day 6: Monday, August 20th
While researching for something a bit off the beaten track of things to do, I found Mount Tibidabo, which is a mountain overlooking the city that holds a small amusement park and old church. We needed to take an $8 roundtrip funicular up the side of the mountain, which was a cool experience as well. Mount Tibidabo turned out to be one of my favorite things I did there! It was breathtaking and such a unique place.
One hour later, we made our way back down the mountain, ate some empanadas at a restaurant we stumbled upon, and tried to find the restaurant we ate at the night before (yes, it was that good that we wanted to go there again!). Before arriving there, we found another restaurant that looked delicious and was popular, so we ended up just going there.
But, as it turned out, that place had the exact same menu as the place from last night! No, not similar items, similar font, no. Similar everything. I took a picture of the menu from the other restaurant and compared it to this one and it was exactly the same! It was quite the surprise! Still unsure if they are affiliated, though.
However, it wasn't that good. The food wasn't that flavorful and the service was terrible. Every single server was angry and rude! We left that restaurant a little hungry because it was so nasty that no one even ate that much, which is rare for the four of us!
Be forewarned: only go to Ciudad Condal, NOT a lookalike!
We left the restaurant and wandered around a little bit. After a couple of blocks, we found a cute cafe/bar/restaurant and decided to stop in for some drinks and snacks. It was nothing crazy, either.
After that, we took a cab back to our AirBNB and went to the restaurant near our AirBNB (Café de la Plaça, if you don't recall, even though I've mentioned it umpteen times now) to preorder some paella for our last night in Barcelona, which was the following evening. Oh, and we drank and ate a little bit more, too, of course!
Day 7: Tuesday, August 21st
This was our last day in Barcelona. What a sad day indeed! We wanted to spend our last day enjoying the city as much as we could. We started off waltzing around the Gothic Quarter, which is an older section of the city with amazing architecture and tiny, rustic, and winding alleyways made of cobblestone. There are shops throughout these little alleyways as well. It's all so cute and definitely a place not to be missed in Barcelona!
Afterwards, we ate some lunch and had some drinks (yes, more drinks!), then walked over to the beach, La Barceloneta, to enjoy some more drinks, tapas, and sun. We sat and hung out for a few hours-- until it was time for our paella again!
We made our way back to our 'hood and gleefully chowed down on that magical paella again! In case you're curious on the price, it was about 60 euros for the entire thing. Yes, a little pricey, but it was for four people-- and could've been for more than four, honestly! Oh, and so worth the price!
We also had some white sangria, which had cava in it. Cava is a popular sparkling wine and was made by a Catalonian, so it quickly became a part of every day life in the Catalonian culture and is still that way today. We tried it during one of our drinks/tapas sessions on the beach and it was just okay. But, having it in the sangria was a totally different ballgame. It perfectly complimented the fruit and juice in it and totally changed my perspective on sangria! I've always liked it, but found it too sweet. But, the white sangria was sweet, but not overwhelming, and did get us buzzed for sure!
It was the perfect ending to a wonderful vacation. I truly enjoyed our time in Barcelona. Even with the whole terrorist attack thing, I still loved the city and hope to return someday soon!
The lesson that I learned from my experience in Barcelona is that anything could happen to anyone, anywhere, anytime. And, if something like what I'd experienced does happen, you can't let it completely scare you and stop you from doing what you want to do, like traveling. If they arise, deal with them the best you can, but don't forget to live your life afterwards and enjoy it to the fullest.
How would you handle a terrorist attack like this if you were in my situation? Do you think you'd have the same outlook? Do you think you'd still love a place if you experienced something like this?