4 Days in the South (Charleston, South Carolina and Savannah, Georgia)
Embarrassing confession: I may love to travel the world, but I've barely traveled around my own country. But, I did get a rare opportunity to stay with a friend in Charleston, South Carolina! To my surprise, South Carolina was more gorgeous and entertaining than I'd imagined!
Day 1
Before going to Charleston, I reserved a rental car for the five days that I'd be there, so when I arrived at the airport, the first thing wIdid was get the keys to my sweet, new ride! ...Nothing fancy, though. I can't exactly afford a Mustang. It was a compact Yaris! But, whatever. It did the job for me and it was the cheapest option-- $135 for five days!
Travel tip for the USA: rent a car in most places. Public transportation tends to be rare in the USA, so renting a car is most likely your best option to get around. Charleston is no exception!
One great positive of driving in a compact car in the South: you save a lot in gas! The gas is cheaper there and the compact car uses less gas! Altogether, we ended up paying $22 in gas and we drove a lot!
My first stop was one of the many places I'd researched to eat at: The Early Bird Diner. While there, I ordered some yummy food! Being that I love all the food in a large quantity, "The Mess" called my name. It had eggs, potatoes, onions, and other good stuff! It also came with a buttered biscuit, which was just to die for! I also ordered two sides to share: fried okra and collard greens. Both food items are food staples in the South. However, I did not enjoy the collard greens! The fried okra, however, I could easily have every day! The Early Bird Diner was a great place to eat-- the food, staff, ambiance, and service were all delightful!
Since my friend would be working late, I decided to instantly dive into the day and explore the city on my own! After I was filled with hearty food, I drove about 30 minutes or so to the Magnolia Plantation. Magnolia Plantation is a popular tourist attraction in Charleston, SC and is the city's most visited plantation.
It cost me $20 to get in. Bummer, I know, but I like to think that that expense was worth it in the end. I waltzed around the gorgeous grounds of the plantation, admired the gardens, and stared off over the rice field, which looked more like a majestic swamp. All around the plantation hung old trees draped in Spanish moss. They were just stunning!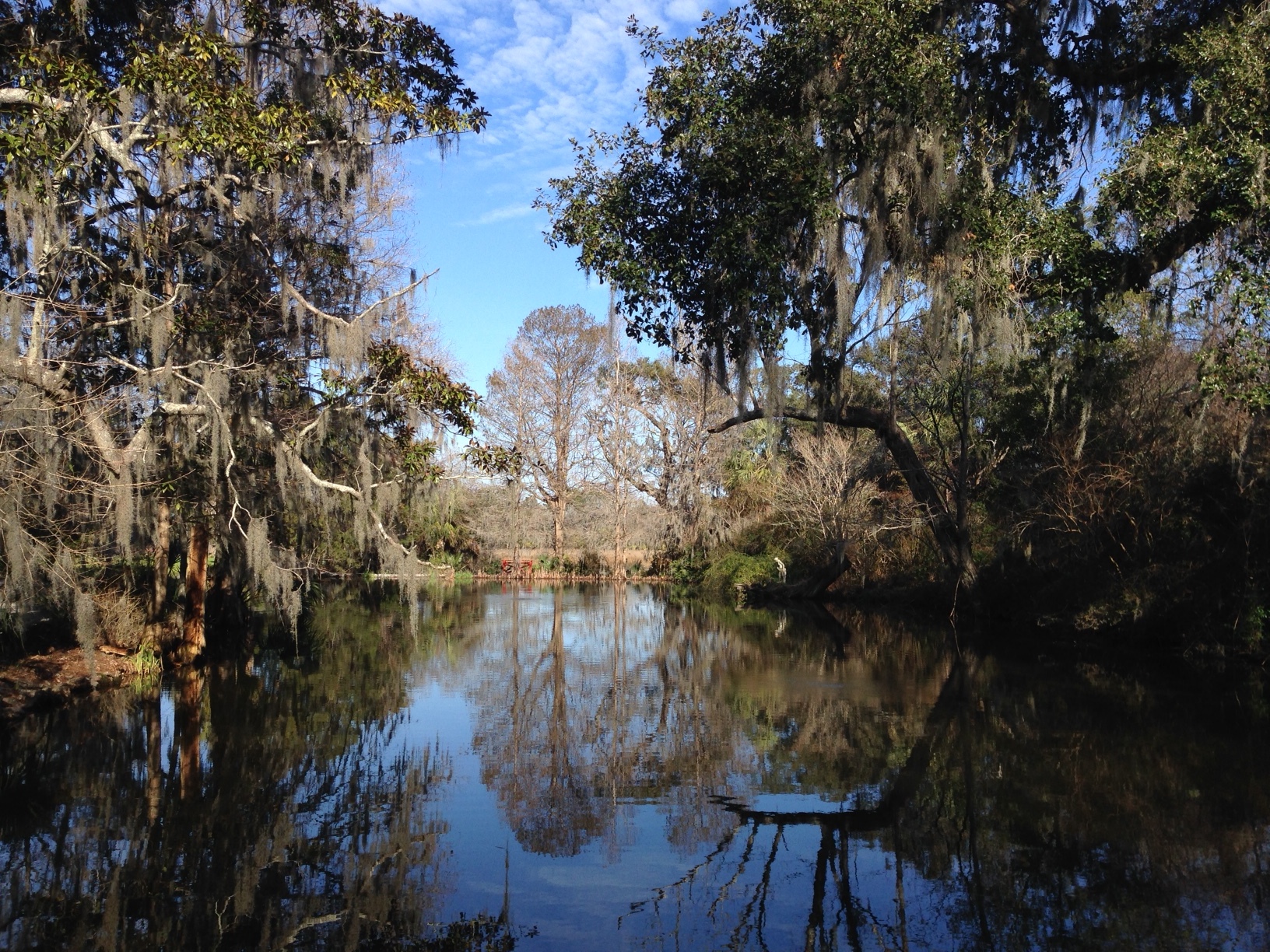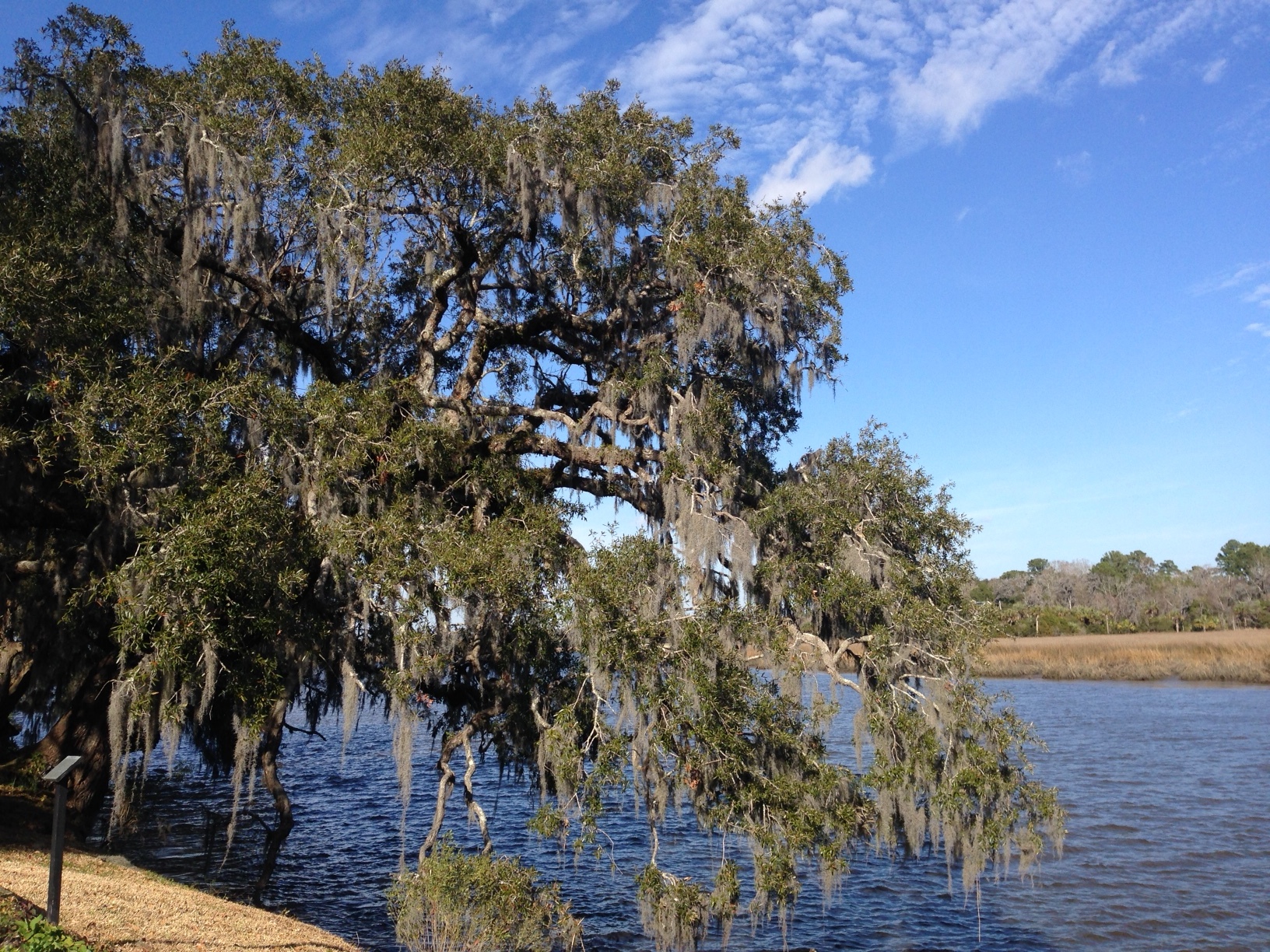 Throughout the gardens, there were signs that gave warnings about alligators. Naturally, I was a little worried, but it didn't seem like they really would be around, since there were other people there, too. But, as it turns out, I was wrong.
I climbed up this observation deck and while admiring the rice field, I spotted an alligator! It was about 20 feet or so from the bottom of the observation deck, sleeping in the long grass across the water. It was my first ever wild alligator, so I was pretty amazed and slightly terrified.
Alone. At the top of an observation deck, peering down at a wild alligator? Not exactly the most comfortable situation I've found myself in.
Once I came down from the observation deck, that was when I noticed just how close it was to me. Considering alligators swim and run quickly, so I made sure to watch the alligator from over my shoulder as I scurried away!
Luckily, I survived— and got to admire some more Southern nature on my way back to the car!
I drove to Folly Beach, which was about 35 minutes away by car. I wandered a bit on the beach and on the pier, caught a bit of the mesmerizing sunset, then went back to the car.
After that, I went on a hunt to satisfy my ever-growing hunger! I went to King Street, which is a popular street in Charleston. However, as it turned out, a lot of the places I was seeing were way out of my price range! A 32-dollar hamburger? Bye!
I didn't search very hard, to be honest. I only walked for about 5 or 6 blocks, but nothing seemed to suit me. I found that Melvin's Barbeque was just a 10-minute drive from there, so I almost ran back to the car and sped there!
Melvin's Barbeque is a popular place to eat in Charleston. It was even in an episode of Bizarre Foods Delicious Destinations with Andrew Zimmern! When you go there, you have three options: dine in, take out, or drive-thru! Yes, I know drive-thru is associated with fast food crap. But, that's not the case here. Melvin's has authentic meat that's been slow roasted in their outdoor barbeque for hours.
I ordered a massive platter, which both came Texas-style prime beef brisket, cornbread, and two sides (I got coleslaw and salad). ...It was to die for, y'all.
My monster platter came to $17 and was worth every penny. If you're ever near Charleston, head to Mount Pleasant and eat there! Order the fatty Texas-style prime beef brisket! Be sure to slather it in their famous mustard sauce as well. You won't regret it!
Day 2
My friend was working the entire day, so that meant it was the perfect opportunity for a day trip to Savannah, Georgia!
After an easy 2.5 hour drive, I arrived and parked in a parking garage (just like Charleston, it's impossible to park in the street) and walked right next door to my first stomach-influenced destination: Henry's Restaurant. It's a popular and cheap place to eat in Savannah, so I thought it would be an excellent place to grab some lunch!
I got grilled catfish with eggs, grits, and a salad, which was all delectable!
After stuffing myself, I realized I needed a bit of a boost to wake myself up. I headed down the street to The Coffee Fox, which is well-known for its killer brews (of coffee) and decor. I sipped on a divine espresso, admired the decor, and watched the passersby on the sidewalk right outside the window.
Then, I walked towards the "Historical District," which turned out to be a much larger area than I imagined and I'd been in it the entire time!
I walked toward River Street, but I wanted to go see the homes, which were in the opposite direction. I sort of found the houses, which I think now just happen to be pretty much everywhere in the historical district. While searching, though, I did stumble upon another place I'd wanted to go called the Forsyth Park. There was a cute fountain and some glorious trees with Spanish Moss, but that was about it. It wasn't anything particularly special, but it was a relaxing place to waltz around for a bit!
Since I'd walked around so much before, I didn't want to walk all the way across the city to get to River Street. Instead, I took the free shuttle bus service, which is called Dot. Yes, you read that right: free. There's the blue line and the purple line. These two bus lines travel in rectangle-shaped routes around the historical district of Georgia. I highly recommend taking these because the stops are everywhere, the buses come often, and they're free! Did I mention that?
I hopped on one of those buses and took it all the way to River Street, which--you guessed it!--is a street along the river. It's along the Savannah River, to be exact. I walked along the street and instantly loved it! The street was cobblestone, there were tons of cute shops, restaurants, and bars, and there was even a river boat docked!
I wandered into River Street Sweets, which apparently had the best pralines in Savannah. Pralines are a sweet concoction made with nuts, sugar, and occasionally cream. That's it! I'd never had them before, but I was obviously keen on trying them. I ended up trying two: vanilla, then chocolate. They were both jaw-dropping. I mean it! I was at a loss of words for a minute because the samples were so divine! No wonder the shop was filled with people and their cash registers were constantly dinging!
After satisfying my sweet tooth, I waltzed along the street a little bit, just admiring the view. Considering it was getting colder and darker, I thought I'd leave, get my car out of the parking garage where I left it, and headed to my next and final destination: Bonaventure Cemetery.
I drove for about twenty minutes to the cemetery, then drove slowly through it. It was an old and gorgeous cemetery, stationed on a scenic bluff on the Wilmington River. It's actually over 170 years old, which was obvious when cruising around it a bit and admiring the various and intricate gravestones.
Day 3
I stuck to Charleston on this particular day. Around 12, we left to get some brunch at a place called Toast! which was on Meeting Street. Meeting Street is also a popular street in Charleston and is parallel to King Street. This restaurant was recommended by my friend, who is also a foodie like me, so I naturally trusted his word!
When we got there, it was packed! We put our name down, then the staff told us it would be about a 15-20 minute wait. That was no problem for us, so we ended up walking to the City Market, which is another popular touristy place in Charleston. However, I personally don't understand why because it was a market with pretty generic and overpriced things.
After about 17 minutes, we walked back to the restaurant. They told us that there were only two people ahead of us and it wouldn't be much longer. We waited inside, right in front of the front desk, because it was too cold for us to wait outside. We waited....and waited...and waited. They kept letting other people go in front of us! For example, this one woman just came in off the street and, because she was pregnant, she had to be sat before us! What a load of crap! In New York and most of the North, that kind of crap would absolutely not fly!
Eventually, we were sat after waiting about an hour for our table. The waiter took our order, but messed up quite a bit. First, we wanted soup, but he brought the wrong sizes and he brought with our meals. Next, when we finally got our meals, they were cold! I mean, really cold. The eggs were both cold and hard. So disappointing.
However, I will say that the soup was delicious! We got she-crab soup, which is also a food item to try in Charleston! It's a creamy soup with crab. Obviously, it was delicious!
In summation, I do not recommend Toast! if you're looking for a place to eat in Charleston.
After that unsatisfying meal, we went to Rainbow Row, which is just a line of colorful homes on East Bay Street. We visited just a small section of that and just thought that it was okay. Just a few pretty buildings.
We then walked along Broad Street and thought that it was more beautiful than Rainbow Row!
Next, we hopped in the car and drove farther down East Bay Street to Battery Park. That area had some seriously nice houses! Each one was unique, gargantuan, and absolutely gorgeous. The park was alright. It was on the water, which did make it nicer! But, the houses were really pretty.
Later on in the evening, we drank lots of alcohol and hopped in an Uber to King Street!
On my first day, I went to King Street, but wasn't enthralled by it because it was not lively whatsoever. However, on Saturday night, it was a totally different story. There were people everywhere! There were tons of clubs and bars open and bumpin'!
The first bar we went to was Prohibition. It's a popular bar there and one of my friend's favorites! It's prohibition-themed and has a dance floor with a DJ. It was really cool and I enjoyed myself there!
We then walked out of Prohibition, wandered a couple of blocks over, and went to another bar called Republic. It was very different from the previous bar. It looked fancy inside, but also had a DJ. However, the DJ was playing hip-hop music, so we went to the outdoor area. It was cold outside, but they had heaters outside so we were perfectly content just sitting on some couches outside!
Then, the bar— and all the others on the street— closed at 2AM. So, we had no choice but to take a cab back to my friend's place. We didn't have much of a choice!
Day 4
That morning, we woke up a bit late, naturally. And, surprise-- it was Super Bowl Sunday! We didn't plan to be there during the Super Bowl at all. It just happened to be one of the days we were there!
We originally wanted to go out to a bar and hang out there to watch it, but we were all so lazy that we decided to just stay at Vinny's apartment. We did, however, go to the supermarket to pick up some wings to make and other good Super Bowl grub! The Super Bowl didn't start until 6:30PM, though, so we decided to wait until it was almost time to get the food and cook. For several hours, we watched a lot of TV. No regrets!
After watching lots of TV, we finally went to the supermarket to gather our goodies for the Super Bowl! We got frozen wings (they were unsurprisingly out of fresh ones), some stuff for a giant taco bowl, and mini weenies!
Frozen wings tip: just put them under running cold water for 20 minutes and they'll be ready to go! That's what we did and they came out perfect!
So much food, football, and drinks with great friends. It was such a perfect way to spend my last night in Charleston.
Overall thoughts on the South of the USA: I liked it a lot! People were so friendly, and that made my experience far more enjoyable than if they weren't. For example, even people at the grocery store were exceptional friendly and genuinely curious about you and your life. They would be so kind-hearted and even ask you what you were doing that night. How kind! Hardly anyone is like that in New York.
If I had to pick which of the two cities I went to were my favorite, I would pick Savannah. It's a smaller city, it's easier to get around, there's a lot to do, and it's beautiful. Charleston is great too, but I don't like that the city is so big. I mean, it's 156 square miles! That's quite large.
Have you ever been to Charleston or Savannah? What did you like or dislike about it/them? Have you visited any other great places in South Carolina and/or Georgia?