4 Perfect Days in Bergen, Norway
Why Bergen, Norway?
I went to Bergen for pretty much one reason: the flight deal. I discovered that on Skyscanner and on Norwegian Air's site that Norwegian Air had a spectacular deal going on. Actually, they had numerous! They had tons of cheap flight from top cities in the US (New York, Los Angeles, Boston, and more) to Europe, especially the UK and Norway. From New York to Bergen, Norway, I booked a one-way flight for just $130!
Day One
I arrived at 9:30 AM after flying for around 7 hours. After going through immigration etc., I took the lightrail (their tram/trolley/above-ground subway) from the airport to the closest stop to our AirBNB. One ride cost 37 NOK, or just under $5 USD. Quite pricey for just one tram ride!
Eventually, I got to my stop and struggled with the AirBNB host's directions. I ended up getting lost, then luckily used pre-downloaded offline Google Maps of Bergen. Lifesaver!
After walking around for about an hour uphill and in the frigid cold, I eventually found my AirBNB, which had an incredible view of the city.
Lille Lungegårdsvannet
After dropping off my stuff, I walked to the lightrail (yep, back down the mountain!) and went to the city center to explore a bit. I stopped for some espresso since I was quite jetlagged. Then, I walked around the center, specifically around the lake there called Lille Lungegårdsvannet (good luck pronouncing that!). The surprise view of snow-capped mountains and colorful buildings there threw me aback-- and I was delighted to see it, jetlag and all.
After walking around a while in a zombie-like state, I hopped on a bus recommended by our AirBNB host to get back to our AirBNB.
Day Two
I ended up exploring a majority of the sights Bergen has to offer. I woke up early and hopped on one of the buses into the city center. We got off at Lille Lungegårdsvannet once again, admired the view a bit, and walked a couple of blocks to the Tourist Information Center.
Bergen Card
There, I bought two things: Bergen Cards and tickets for a Fjord Cruise. Bergen Cards are these handy cards that you can purchase (24, 48, or 72 hours), which then give you discounts on all sorts of things in the city, like free public transportation, a free funicular ride up Mount Fløyen, 20% off of a Fjord Cruise, free or discounted museums, a free or discounted ticket to the Aquarium (depending on the time of year), and other random little stuff. I bought the 48 hour card for 280 NOK ($35 USD).
A Fjord cruise is a 3-hour long cruise (at least, the one I took was 3 hours) through the fjords in Bergen. Because I got a 20% discount from the Bergen card, I ended up paying around 440 NOK ($66 USD). Quite pricey, but glad I got the Bergen card for that discount!
Bryggen
The cruise was at 2:00PM, but being that I was there a few hours early, I needed to kill some time. Right near the port, which is where both the tourist center and fjord cruises are, I admired the Bryggen. The Bryggen is pretty much what I'd looked forward to seeing the most, since it was the first Google Photo I'd seen for Bergen. It was adorable!
Being that I was mighty peckish (as per usual), I went to a sausage stand to get traditional reindeer sausage, but they were closed when I went. Bummer! Not to worry, though. I eventually got my reindeer sausage later on!
Almost all of the restaurants are impossibly expensive, I quickly discovered. They were far too expensive for me! So, while searching for a place to eat, I stopped in a McDonald's for WiFi to search for a cheap place to eat and magically found a cheap and traditional restaurant nearby!
Fish Cakes and Fish Soup
That's when I found a godsend: Søstrene Hagelin. I ate what were called "fish cakes" for about $1-$3 for each one. I got every kind they had, including bacon and cheese, original, vegetables, and more. They were delicious and hearty!
Oh, and I got some fish soup too-- one of the greatest, creamiest, and most satisfying soups of all time! It reminded me a lot of lobster or seafood bisque, but it had fish balls and other delicious things in it. The fish soup was pricier that the cakes, but so worth it!
I still had time to kill before the fjord cruise began, so I walked a few blocks away to this cafe called Cafe Aura. I got an espresso at a table where I had a nice view of a cute alleyway.
After finishing my coffee, I walked around the alleyways in the area of the cafe to admire more of the adorable and colorful alleyways.
Fjord Cruise
About ten minutes before the cruise began, I boarded the boat. There were two floors: the bottom deck, which was for sitting and relaxing in warmth with a snack bar and bathrooms, and the upper deck for viewing the fjords outdoors. I stayed on the lower deck until the fjords came into view (it was freezing and windy!). It was very well worth going on the upper deck when I did— wind, frigid cold, and all.
The fjord cruise was one of the greatest things I've ever done because I saw mother nature at her finest.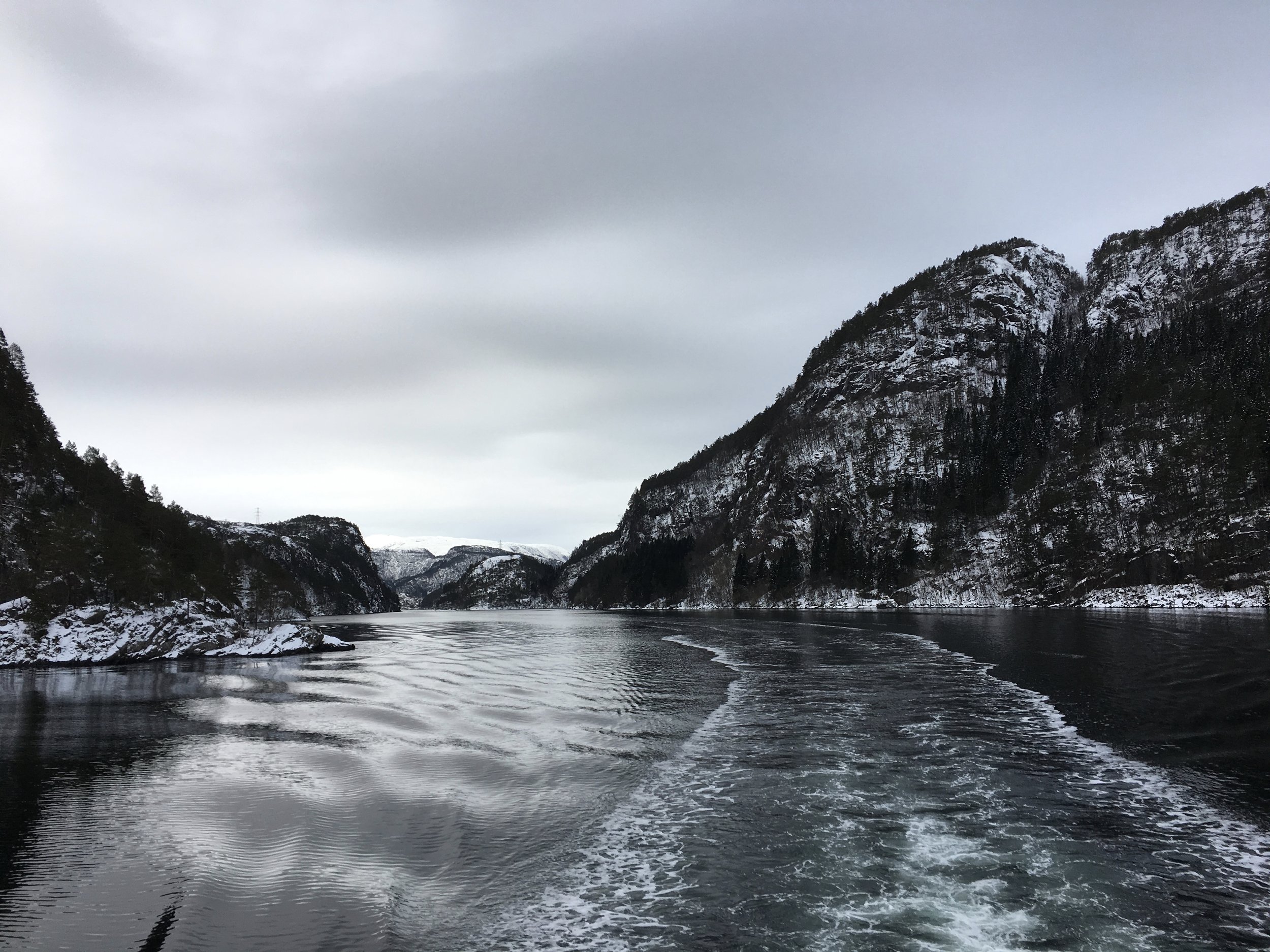 Tip for the fjord cruise during the winter: bring your own warm drinks, alcohol, and/or food. The snack bar there is pricey and it would be cheaper for you to just bring stuff with you rather than buy stuff there.
I was a little hesitant to go on the cruise in the first place only because it was pricey, but it turned out to be completely worth it. I'd never seen a fjord before (or really even heard the word before) and seeing them up close and personal while in the dead of winter was unlike anything I'd ever experienced. One billion percent worth it!
Going to Bergen and questioning the fjord cruise? STOP THAT AND GO DO IT.
Reindeer Sausage
Oh, yes. Finally: reindeer sausage time! I beelined from the cruise boat to the stand called Trekroneren and got myself a reindeer sausage-- finally! I got it with the traditional Norwegian toppings: strawberry sauce, mustard, and fried onions. Bizarre combination, right?! Bizarre as it may be, it was divine.
It came to 65 NOK ($8 USD) for just one sausage. Quite pricey, huh!? But, honestly, whatever. Norway = expensive. The end.
With the Bergen Card, I was able to ride the funicular up to the top of Mount Fløyen for free! Being that the mountain awards visitors with stellar panoramic views of the city, I knew I just had to do it!
Mount Fløyen
I rode the funicular up for free (normally 95 NOK or $12 USD roundtrip) and was blown away instantly by the view of the city below and other surrounding mountains. I got to the top near sunset, so I got to experience it in the day, sunset, and night. It really made me appreciate the beauty of Bergen even more!
It got very cold very quickly, so I honestly didn't stay too long. After going back down the mountain on the funicular, I went to the grocery store (again for cheap food to eat at my AirBNB), then headed back.
Public transportation is really easy to follow and use in Bergen, which is a huge plus! It consists of the lightrail and buses, mainly, which are all relatively easy to navigate.
I never went out to eat for dinner in Bergen because it was really expensive to eat dinner out there. I really didn't prepare myself for the prices, being a broke backpacker and all. I would've spent at least $30-35 on just one entree!
Day Three
Gamlehaugen castle
I walked for about 40 minutes to this glorious castle, which is more of a mansion, and is owned by the Norwegian royal family and is used by the king as a place to stay when he goes to visit Bergen. It's positioned right on the lake with some lovely views of a part of the city and the lake.
Since I went in the winter, it wasn't quite as beautiful as I'd hoped it would be. Or maybe I was just spoiled from the views of the previous days! You tell me!
The 40-minute uphill walk back to our AirBNB did not look enticing whatsoever, so I searched for bus stops nearby. There were a few, but they were about 10 minutes walk from the castle. Normally, that would be fine, but since it was Sunday, the buses only came once per hour. So, I ended up waiting quite a while in the freezing cold for a bus.
When I finally did get to the center of the city after riding the bus, I noticed that almost everything was closed because it was Sunday. Damn it, Europe!
Tip: If you plan to travel around Bergen on a Sunday, be aware that most places will be closed.
Vegetarian Food
Clutching at my grumbling stomach, I searched desperately for affordable and yummy food. Eventually, I settled for a vegetarian/vegan place called Dwell. I got a Buddha Bowl (55 NOK or $7 USD) and antioxidant-rich drinks (35 NOK or $4.50 USD each). Everything was delicious and surprisingly not impossibly expensive.
Espressos and Fish Soup (again)
No surprise: I was still hungry and low on energy, so I returned to Aura and ordered an espresso with a large bowl of fish soup. Once again, the fish soup did not disappoint!
Then, I wandered around the quaint and romantic alleyways.
Day Four
Yes. Four days is far too long for Bergen, but that's just how my flight lined up. If you can, avoid staying there for four days. Two to three days is perfect.
More Fish Cakes and Fish Soup!
I hopped on the bus to the center. Since I was starving (is my stomach a black hole?), I stopped once again at Søstrene Hagelin for more delectable fish cakes and fish soup! It was just as good--if not better!-- than when I had it on our second day in Bergen.
The Walk to the Aquarium
I walked towards the aquarium from the center of the city and was not disappointed by what I found along the way.
I personally thought these vibrant and eye-catching homes were even more beautiful than the more popular homes in the Bryggen!
The Aquarium
(43:14) Since the aquarium was free with my Bergen card, I knew I just had to explore it.
The aquarium was quite cute (some of the exhibits were outdoors because it's so cold there!) and I enjoyed exploring that for a little over an hour or so.
Final Thoughts
I thoroughly enjoyed my time in Bergen. There is a surprising amount of things to do and see in Bergen. It has so much nature and breathtaking views to feast your eyes on!
Positives: the cafes were quirky, the people were so friendly, the food was surprisingly scrumptious, WiFi is bountiful, the nature was incredible, everyone spoke English there, and the Norwegian greeting is easy to remember: "Hi!"
Negatives: the prices were insane and it was cold.
Have you been to Bergen or another city/area in Norway? What were your thoughts on Norway?