Backpacking Taiwan in 10 Days
Day 1
What do you envision when you hear "Taiwan?" Chinese diplomacy? Thailand by mistake? Big, fat question marks floating over your head in circles?
Yeah. I envisioned pretty much the same when I landed in Taipei, Taiwan on October 29th, 2016. I had zero expectations. But, while in the back of a very cheap Uber from the airport to the city center, I was astounded by how modern and beautiful Taipei, Taiwan's capital city, was! It was sparkling clean, modern, and open. I swear, I had to wipe the drool from the corner of my mouth! I found myself in actual drool-worthy city.
After settling into my AirBNB, I headed to a popular club called Myst to celebrate Halloween. And yet another wonderful surprise: it was such a great experience! I dressed up a bit (literally wore all black and had rabbit ears from a random street cart) and waited on line to get into the club for about 30 minutes or so with tons of other people. Since I was (barely) wearing a costume, I got in for free! Meanwhile, everyone (the hundreds of people on the street and in the club) were wearing extravagant costumes and I felt extremely underdressed. One guy was dressed up like Darth Maul from Star Wars and he was totally rockin' it, intense make-up and all! Obviously, I had to take a picture with him.
During my clubbing hours, the club was raided by police! Apparently, someone had drugs on them and the cops were heavily interrogating people to find out where they were (they're pretty intolerant when it comes to drugs in Taiwan). Not to worry— I wasn't the one with drugs! I had made friends during this "down-time" with some very friendly folks at the club as well.
Day 2
The following day, I started off the day with a waltz around the downtown area. Then, I had to obviously have some lunch because I'm always hungry, if you didn't already know. But, also being me, I needed a very…interesting dining experience. I headed to the most unique and giggle-worthy restaurant with my inner-child: The Modern Toilet. It's a restaurant where the theme is exactly what you don't want to be thinking about while eating: poop and toilets! I'll let the pictures elaborate:
Afterwards, I had to do the obvious: go inside Taipei 101, the eighth tallest building in the world. It has 101 floors, so the view from the top was spectacular. Naturally, it cost a bit of dough to get into the observatory-- 600 TWD ($19 USD)!-- but it was well-worth it.
I went to the bottom floor of Taipei 101 and ate at the popular chain restaurant called Din Tai Fung. I'd heard about it from Anthony Bourdain, so I knew it would be good— and boy, did he make yet another awesome recommendation! Their dumplings, dim sum, and water spinach were scrumptious and some of the best I've ever had! It was a little pricey to be honest, but then again, I overdid it a bit as usual and ordered far too much food! Plus, the prices was worth it!
The best part of the restaurant though was being able to watch the workers there make the dumplings and dim sum by hand behind observation windows.
As much as I enjoyed Taipei 101, this needs to be said: as glorious as the views were from the top, I felt that the greatest view was of the building from outside. Whether it was from the street, or from Elephant Mountain, which is where I went after dinner, it was a sensational sight to see, night and day.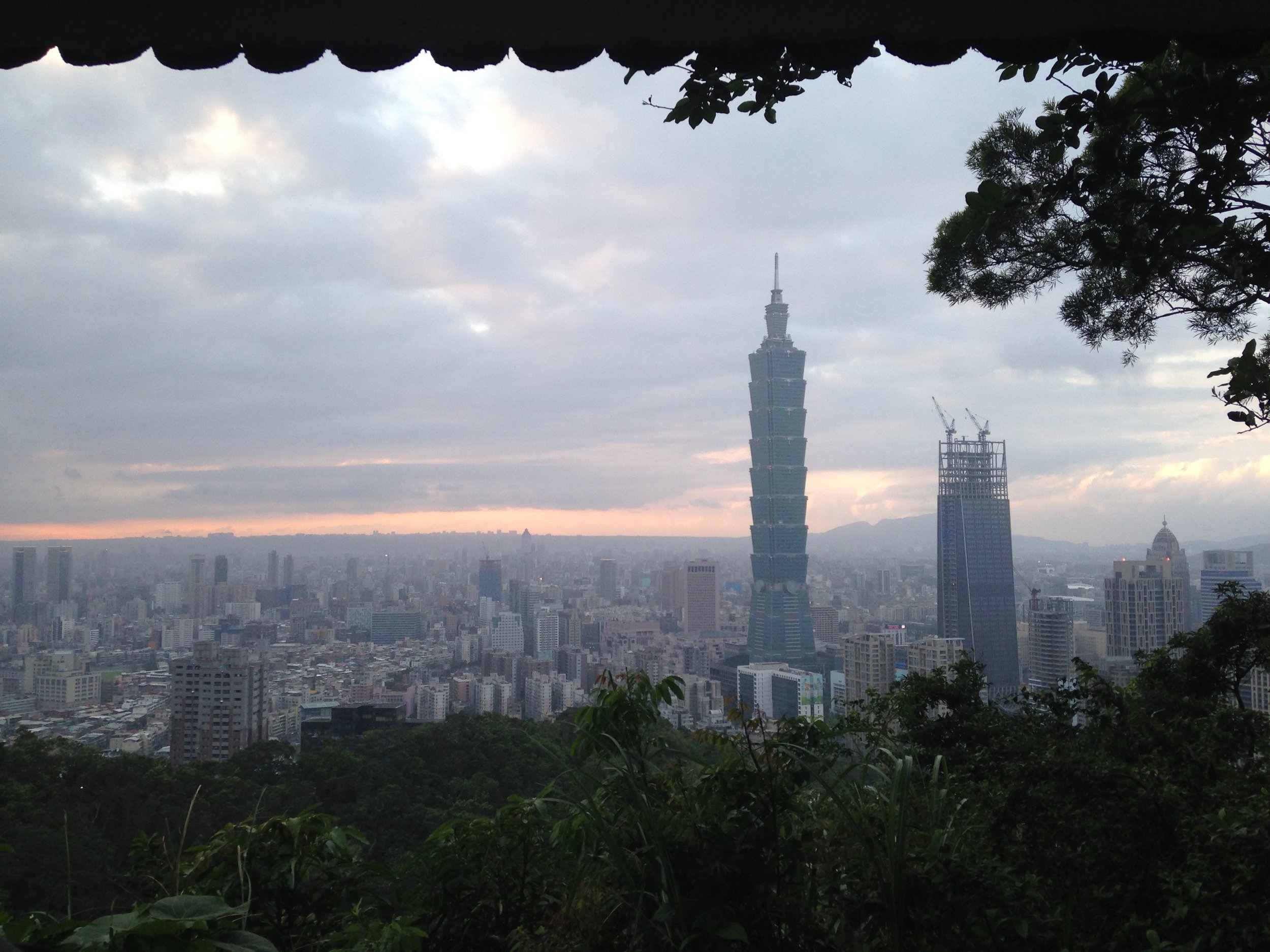 Word of advice on Elephant Mountain: be prepared to climb a lot of stairs, so dress accordingly!
Day 3
The following day, I headed to Hualien City via train from Taipei. From there, I checked into my AirBNB, then took an hour bus ride to see the Taroko National Park, which was absolutely gorgeous! You gotta check out the pictures because words escape me to describe its beauty:
Day 4
In Hualien, I got a nasty cold, so I honestly didn't do much in Haulien except for Taroko. While being sick, I hopped on a train to my next destination: Kaohsiung.
My favorite train ride of all time, by the way, was between Hualien and Kaohsiung. Can you see why?
Still battling my sickness, I didn't do very much for the couple of days I was there. I did make time, however, to eat some yummy beef noodles at Gang Yuan Beef Noodles! I also went to Hsitzuwan Beach and watched the sun set, which was one of my favorite moments in Taiwan.
Day 6
After Kaohsiung, I hopped on another train to Taichung City. I mainly went to Taichung to see Sun Moon Lake, but it turned out to be much farther from the city than I anticipated! It would've been a two hour trip and we'd have to transfer buses. Since I'd been traveling so much on all the kinds of transportation then and was still sick, I decided not to go to the lake and just experience the city instead.
In Taichung, I mainly relaxed and walked around the area I was staying in, which was in Situn district. There was a night market right outside my AirBNB, so I walked around there and ate tons of great street food there for the few days!
Day 9
After that, I headed back to Taipei for another night. I didn't do very much, but I did manage to eat my favorite wonton and noodle soup of all time, which I ate on my first and second day in Taipei!
Lessons learned: plan more time for backpacking in Taiwan! Although I technically did have a decent amount of time to do what I wanted to do there, there was still so much more I could've and wanted to do. Plus, I didn't plan to be sick most of the time, so I missed out on a lot more as well.
But, no big deal. I guess I'll just have to go back another time!
As for you, here are some things I recommend seeing in Taiwan that I missed: Sun and Moon Lake, Tainan, and Yehliu Geo Park
Would you ever go to Taiwan? What would you do there if you went?